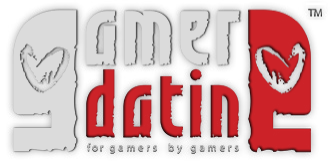 FAQ
What is GamerDating?
GamerDating is as simple as it sounds: an online dating service for Gamers. This service was designed by Gamers to have a no-nonsense approach to matchmaking passionate gamers with like minded Player 2s so you can spend your time having a relationship instead of attempting to convince someone that gaming is a valid hobby.
How is GamerDating for gamers by gamers?
Gamerdating.com was designed and is run completely by Gamers. We love games and the incredible journeys they take us on. Gaming and Gamers are extremely important to us, and we know we aren't alone.
Who is behind GamerDating?
You can read our story over at the about page, but in short GamerDating was born from a group of Gamers who each went through unhappy relationships with non-gaming partners. We could only find "white label" dating websites which have a front of appealing to Gamers, but the actual databases are a shared resource and so offer very little certainty that the potential partner truly shares a real passion for gaming. Our first beta quickly gained 5000 members with no advertising and a bare bones website. When we saw our numbers go up so quickly, we knew we weren't alone in wanting this so we set to making the best dating site for gamers online.
Is it free?
To join, search and be matched on GamerDating is free. Instead of following the industry standard of charging $30-$60 a month, instead we charge $35 for 2 months, or $70 for 4 months. Paying for subscription allows you unlimited communication, a Twitter-like feed to share your story and access to all sections of GamerDating. We considered having a free service, our beta was open and free, but realized to take such a venture seriously and keep out trolls and spammers, we'd have to charge. This also means that our team spends all of our time and energy on making a great service. (other than game breaks, of course)
Why do you have adverts?
We aim to build our service as we grow and until we have a self-sufficient website we have to be realistic. We chose to have non intrusive, soundless, non pop up adverts. In your face adverts drive us mad! We are careful to work with advertising partners who have something a Gamer would really want.
We hope to provide an option in the future for paying members to remove adverts, but until then we hope you understand and can support us. Alternatively you can always use ad-block.
Is my information safe?
All details are protected by our privacy policy and are not shared for marketing. You will not get spam or offers from us.
Where is feature X?
We are always adding more features, continually optimizing the matchmaking, searches and all- over service to work as we dream. We've had to put some ideas and features on the backburner and we are not hiding that. The features advertised in our prelaunch are all be available. Check out our team blog detailing our dream features to come at a later date.
What makes GD different to another dating service?
We pride ourselves in providing a neutral ground where every person can feel confident and proud that they are a Gamer. To explain, validate or prove that gaming is a positive is not required as everyone on this website is already a Gamer!
We have expanded the standard dating profile to allow honed searches for those who play the same things you do. You can select your favorite games, then search for people to arrange a date for you to play the game together.
What are communities?
We wanted to not only provide a dating service based on matchmaking for love, but also a hub where you can review, discuss and talk about games. Some of our closest friendships started with the best build order in StarCraft 2 or the best Talent choices in World of Warcraft. The team behind GD bonded over BioShock and Left4Dead and here we are today. Often the discovery of your next favorite game will be entirely reliant on your friend telling you their awesome experience of the game they played last night. With communities we wanted to create a hub of this kind of interaction, giving Gamers a place to talk about their experiences and find other people who feel similarly. Right now, they only have basic functions but there will be much ore added soon!
Help!
We will do our best to resolve any issue you may face, please contact us using our support tool, located in the site footer. Alternatively, you may email: support@gamerdating.com.