Creating and Inspiring During a Pandemic: Animal Crossing New Horizons
Posted By: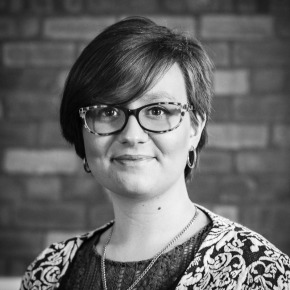 Jennifer - August 20, 2020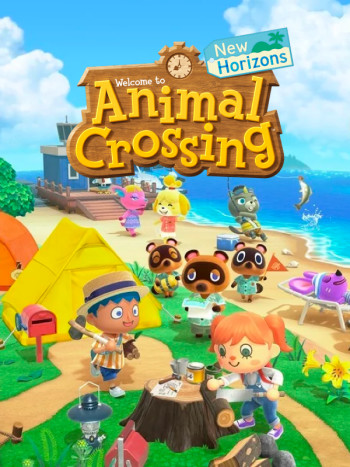 Creating and Inspiring During a Pandemic: Animal Crossing New Horizons
This year has been a strange and scary one for everyone across the globe. We now find ourselves thrust into a new world of social distancing, self-isolation, washing hands and wearing masks. It has been a terrifying time no matter who you are, young or old, rich or poor. Yet gamers have had a bit of a respite with multiple games launching and into this apparently bleak landscape entered the much anticipated Animal Crossing New Horizons on the 20th March 2020.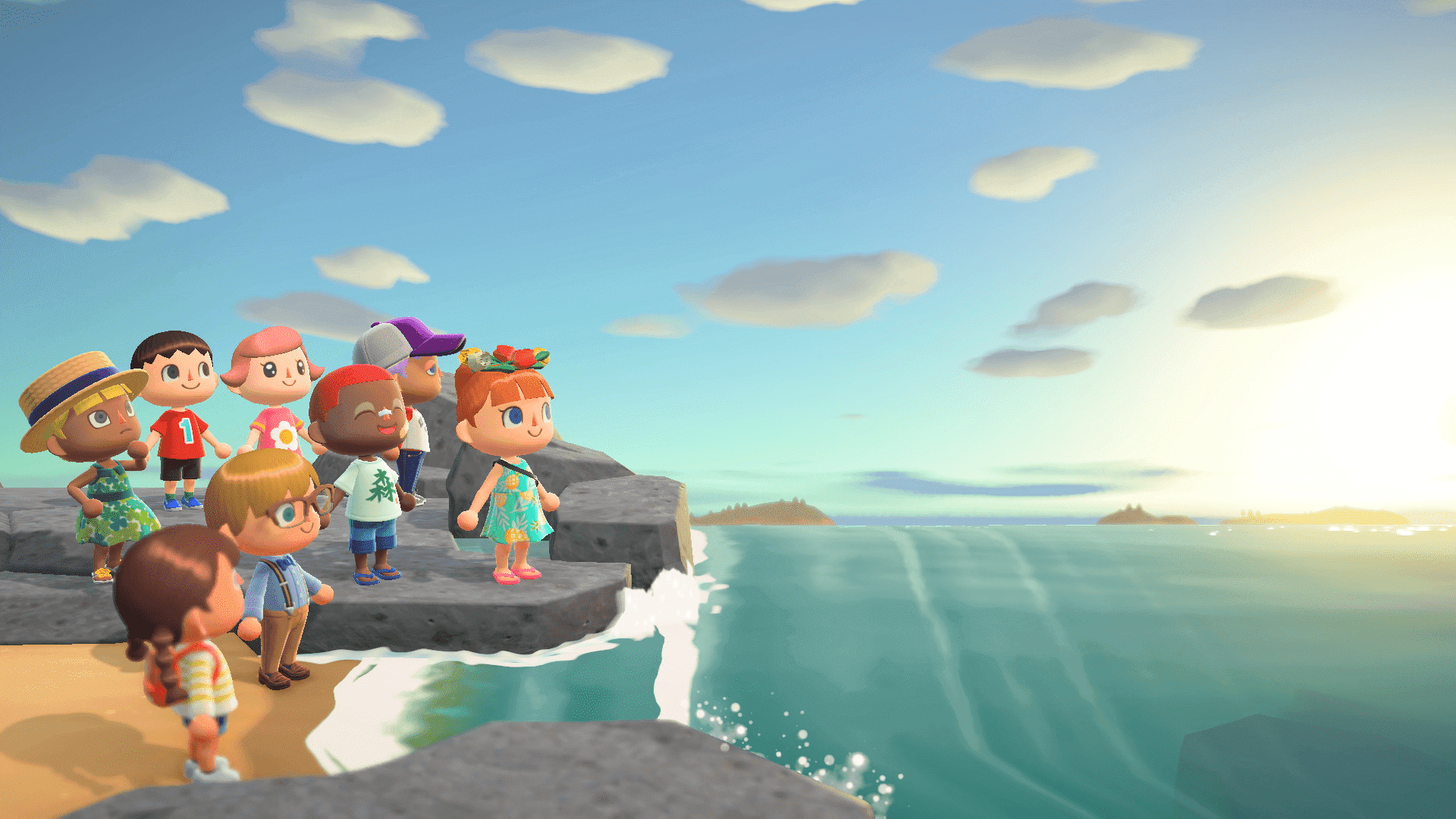 Animal Crossing New Horizons boasts multiplayer to engage the creative.
As a casual gamer who is fairly new to gaming, I had never played an Animal Crossing game before. With everything going on in the world, it was about a month before my curiosity got the better of me and I purchased the game. I wasn't sure what to expect, with most of my experience with this kind of game coming from hours in Stardew Valley, but after listening to glowing reviews from friends I decided to give it a try. I'm glad I did.
Upon loading the game, the player is launched into a bright, colourful world seemingly entirely at odds with our own, filled with people to be met and new lands to be explored. The opening cutscene explains the premise of the game in a fun and immersive way by introducing you to Tom Nook, the organizer and facilitator of your island getaway, as he finishes the preparations for your departure with your assistance. First, you are asked to choose your island, with an emphasis on which hemisphere you live in in real life. This is a particularly important choice as the game progresses in real time in line with your Switch's internal clock, and appears to be the only choice in the game that you cannot change without completely restarting. Once that selection is made, the creating begins with your passport photo.
You are able to express your characters identity using a range of features, hairstyles and colours. While initially the choices may seem both important and limited, you are given opportunities to both expand your options and change your look throughout the course of the game. Interestingly, and rather unusually, while you are prompted to select a gender in the form of stylised male and female character heads, it appears to make absolutely no difference to your character model, or the way that your fellow islanders refer to you in the English language version of the game. While this selection may be more important in languages that have gendered vocabulary, you can change your choice at any time, raising the question of whether the selection is necessary at all. However, for those who wish to play as a specific gender, the option is there.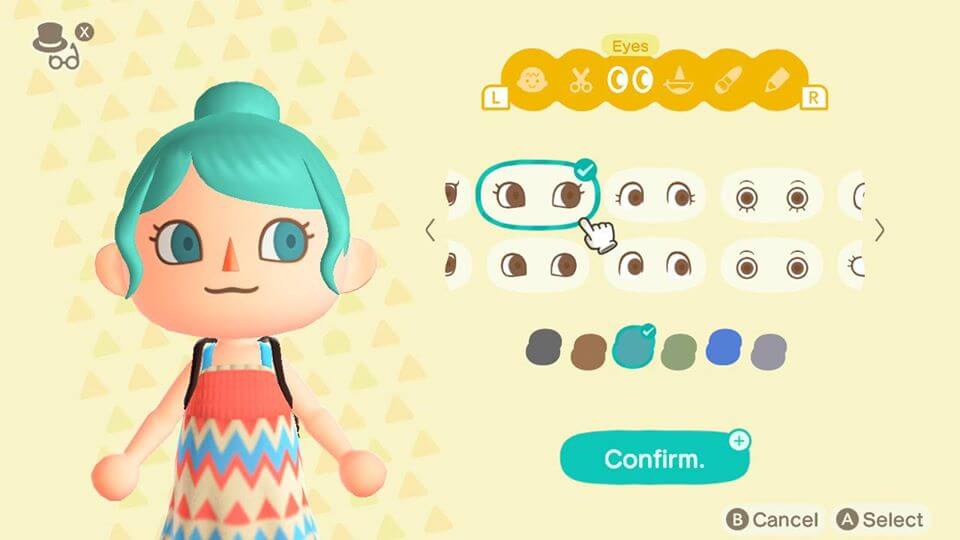 Animal Crossing characters manage to pack all sorts of stylish looks and options.
Selections made, the adventure begins. You are transported to your island and given the first opportunity to explore through one simple, but very important question: where will you pitch your tent? Tom Nook puts a lot of emphasis on this task, and it is easy to see why, as you will not have an opportunity to relocate your home until much later in the game. While the choice may seem easy, you're only pitching a tent, where you choose will have an impact on the available space you have for other buildings, something that isn't made too clear at the outset of the game. And there are many more buildings to be placed, starting with your fellow adventurers tents!
While initially your community may seem small, there is plenty of opportunity to expand and grow as your island develops. From chameleons who love bugs, to fashion-obsessed goats, and cows with dreams of being a superstar, each character is uniquely designed with an interest that can spark discussion, and the closer your friendship becomes, the more rewards you can earn. Interact with visitors on your island, and you may even convince them to settle down and open a shop!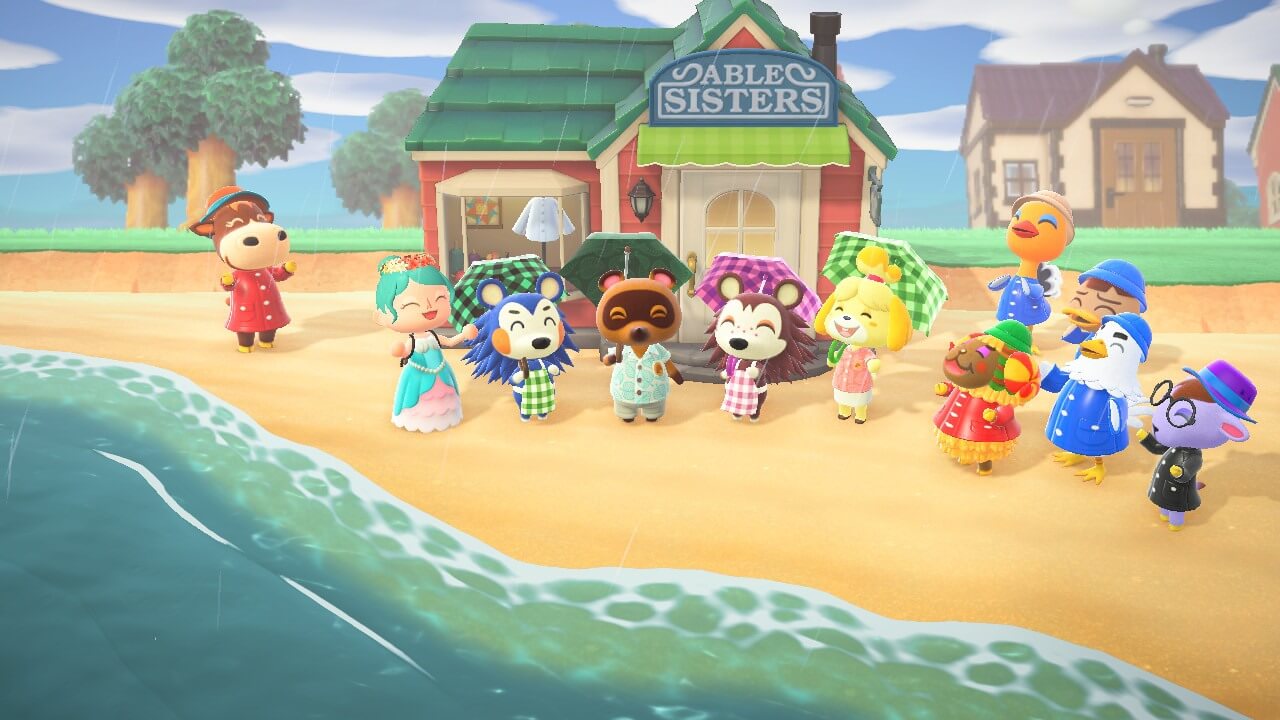 New Horizons visitors settle down and celebrate a shop opening.
Animal Crossing New Horizons also gives you several opportunities to interact with your real-life friends. Whether you choose to fly to a friend's island via Dodo Airlines, sleep to investigate in your dreams, or upload your unique fashion creations for others to enjoy, there is something for everyone. There is a catch however. In order to access these features, a Switch Online account is required. At this difficult time, with many people looking to cut unnecessary costs where they can, this seems like an oversight when players using the same Wi-Fi network could be able to visit one another's islands in the same way that local players could appear to one another in Pokémon Sword and Shield.
At this point you are introduced to your inventory, a perfectly designed thought bubble that will appear over your characters head to hold your items. Each in-game item has a unique cartoon representation in keeping with the thought-bubble aesthetic within the inventory, making it easier to identify. While the inventory space is small initially, it can be expanded as the game progresses. Since you have to hold your tools in your inventory in order to use them, this becomes very important as your pockets fill up fast! More space allows you to branch out and explore your island and the surrounding waters without having to worry about constantly returning home to store precious items.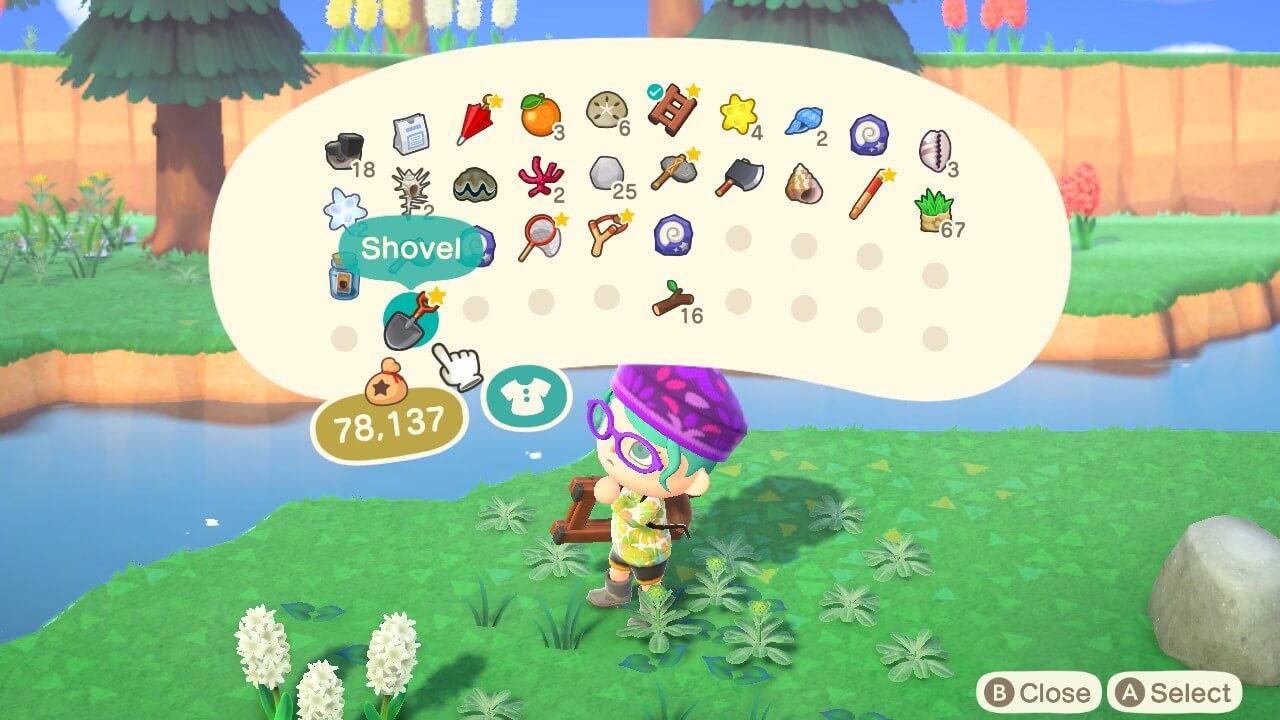 New Horizons offers an improved inventory, a perfectly designed thought bubble!
Unlike many games with a large inventory space and an emphasis on exploring and collecting materials, there is no way to sort the items you pocket. This can make it difficult to locate important items like your tools quickly, which is where your tool wheel comes in. Acquired using Tom Nook's reward scheme, this feature enables the quick selection of your favourite tools, particularly useful for catching bugs before they can fly away!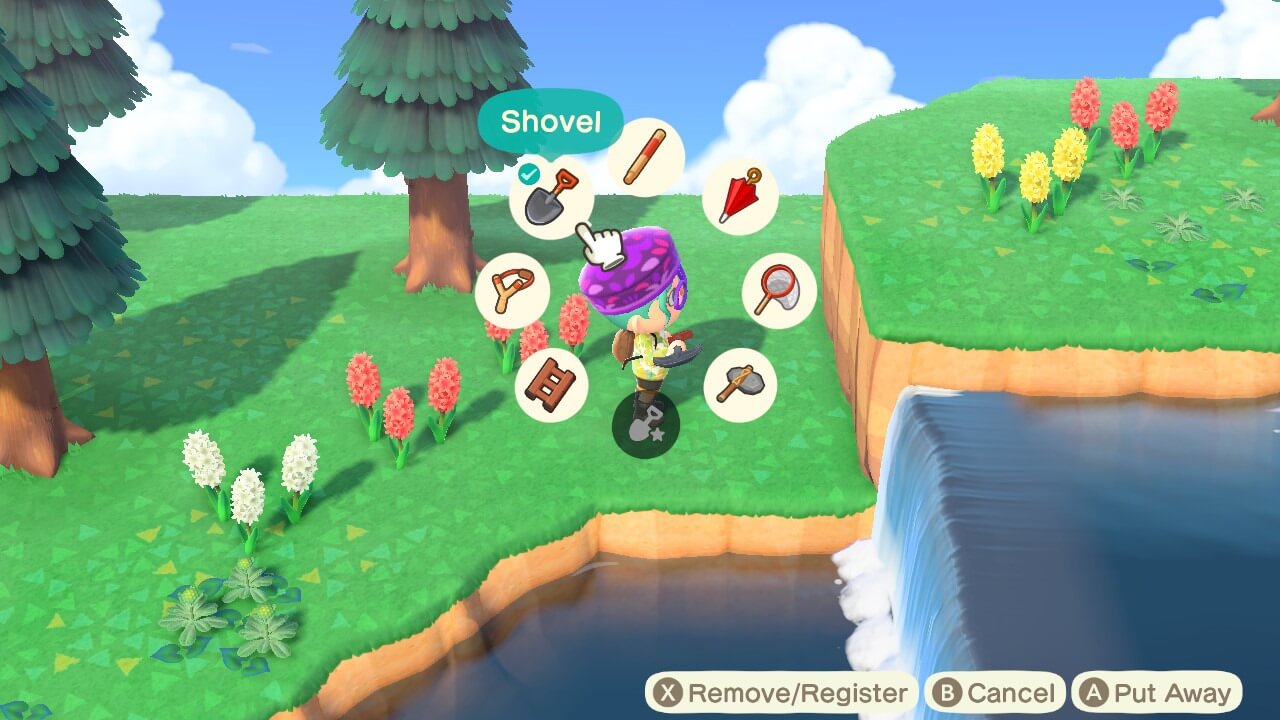 The Tool Wheel is a quick selection offering your hard earned tools is a welcome menu.
Tom Nook invites you to explore your island and interact with your companions through a series of short quests beginning with teaching you how to gather materials for an island celebration. As you progress in the game, the quests that you receive ramp up in difficulty, but unlike many other games, the player is entirely in control of when they take these quests, and how long it takes to complete them.
It is from Tom Nook that you receive possibly the most important item in the game: the Nook Phone. Here, you can track the progress you make towards Nook rewards, the new fish and insects you catch, your crafting recipes, your custom designs, and even call for help if you need it. It is here that the true genius of the game is most obvious.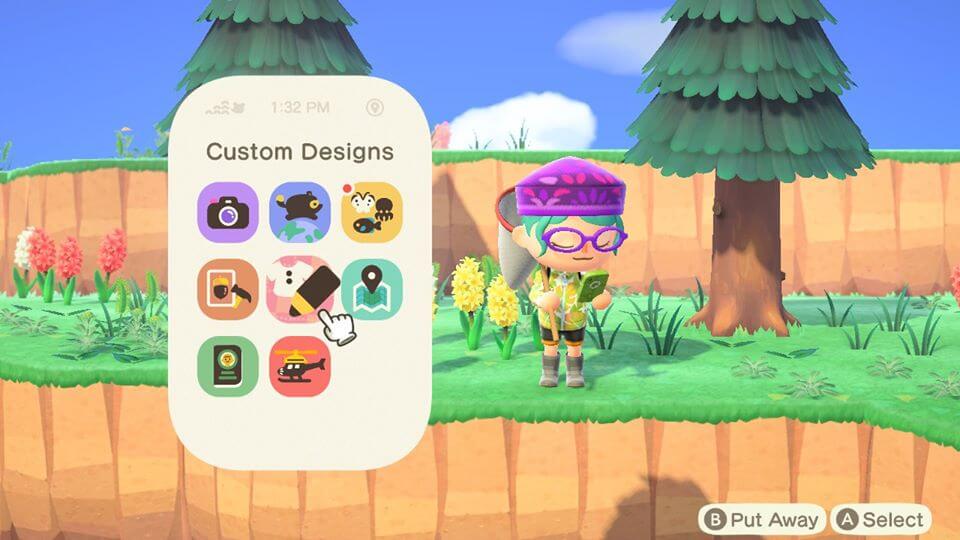 The Nook Phone, how better to have Tom Nook easily contact you, track you and keep tabs on you!
Crafting in the game is simple and easy to do, but doesn't seem to add anything particularly new or different. Acquiring recipes from your fellow islanders, or washed up on a beach with a message in a bottle, you must select them in your inventory in order to 'learn' them, which may seem like an unnecessarily complicated process, and can cause difficulty if your inventory is full when you try to pick the recipe up. Once learned, you can use a DIY station to craft any recipe as long as you have the materials in your inventory. With a wide range of recipes to be discovered, and more added with every update, there is something to suit every style, to allow you to customize your house and your island as you see fit.
Fishing can be a little more complicated, as you have to wait to see the shadow of a fish in the water, and then tempt it to your fishing line without scaring it away. However, once you are able to master this skill, catching and collecting the fish can become addictive, the drive to collect all of them to donate to the museum fueling many hours of gameplay in itself. The emphasis placed on the museum, supporting and growing it by donating as many different fish, insects, fossils, and, later, art pieces as possible is a powerful message. The celebrations held each time the museum is expanded serve to highlight how important the arts are to society, while supporting it becomes easy as the game appeals to the instinct of every completionist to tick those boxes and earn those rewards!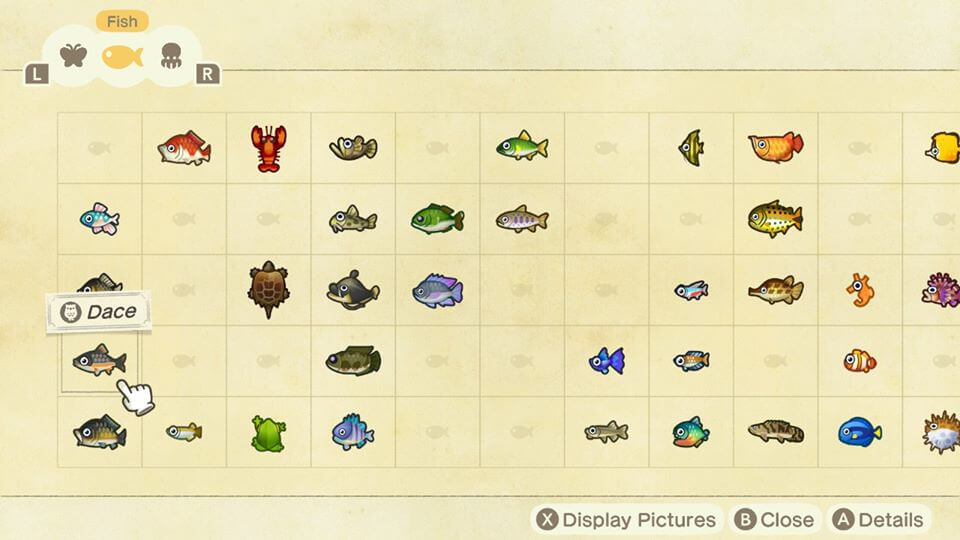 Gotta catch em all... Fishing is a strong point, challenging and rewarding.
While initially, the game can seem slow and boring, with very few 'quests' presented and progression tied to real-time, it forces the player to shift their focus. So often, games encourage the player to focus on bouncing from objective to objective without stopping to appreciate the beauty of the world around them. Conversely, Animal Crossing New Horizons invites you to take a step back, slow down and interact with your environment and your neighbours. You are encouraged to help improve the island's facilities and support the arts through the island's museum, building a community and gaining more residents. If you happen to complete a few objectives along the way, you are rewarded with Nook Miles, which can be used to buy a selection of items to further decorate your island. All of the control is passed to the player, to choose what to focus on in what order and when.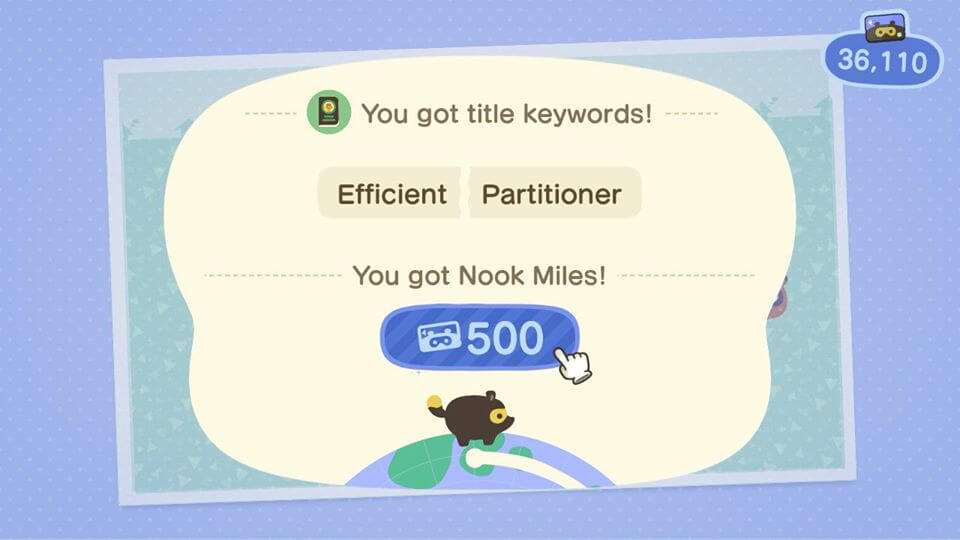 Nook isn't all about debt, with Nook Miles awarding you as you play.
At a time when so many people feel out of control, disconnected from their friends and community, and locked in their homes, Animal Crossing New Horizons invites us to step outside, interact with our friends, and appreciate nature in a safe way. It gives us a space to create and express ourselves in ways many can only dream of. It does require a Switch Online account to get the full benefit of the social aspects of the game, and there are some issues with being unable to organize your inventory. Placing buildings without knowing how many others you need can accidentally limit your island space, and catching fish and bugs can be tricky and tiresome at times. However, the ability to create and customize your character and environment to suit your style, connect with your community, and support the arts, empowers the player to learn and grow in their own time and in their own way.
Animal Crossing has unleashed a virtual respite, a world to enter, explore and express. We've seen honeymoons, marriage proposals, weddings and endless groups of gamer dates. Just checking Twiter reveals that Animal Crossing is amongst one of MANY games you can use as a dating location:
Mo Mo arranged a date with her boyfriend who was in a long distance relationship and stuck over the border:
With the canadian borders closed, my boyfriend seemed further away than ever. Thank you Animal Crossing for giving us a meuseum date night . pic.twitter.com/vdXh5lpTOh

— Mo Mo O'Brien (@momo_obrien) March 23, 2020
Imogen, who handn't seen her boyfriend since December arranged dates:
the last time i saw my boyfriend was in december, and he's back in the uk, but we aren't able to see each other due to lockdown
so, we're meeting up in animal crossing for now 🎑🤍 https://t.co/80fYDYIkSw

— imogen (@_donlothario) March 26, 2020
Jake Green arranged a date with his GF and went into the museum, a common spot for a quick online game date:
Me and my gf haven't seen eachother for two weeks but tonight we had a little date in the museum and I cried a bit #AnimalCrossing pic.twitter.com/eTvaqNiFZY

— Jake 'two likes though' Green (@Jake_k_green) March 25, 2020
So, whether you love it or not, everyone can appreciate the comfort and happiness the game has brought to so many in a time of great uncertainty and darkness. With over 50 hours logged in the game so far and more expansions on the horizon, I'll be letting my imagination run wild.
See you there!