Warhammer 40,000: Darktide Closed Beta Preview
Posted By:
Dan and Team - October 19, 2022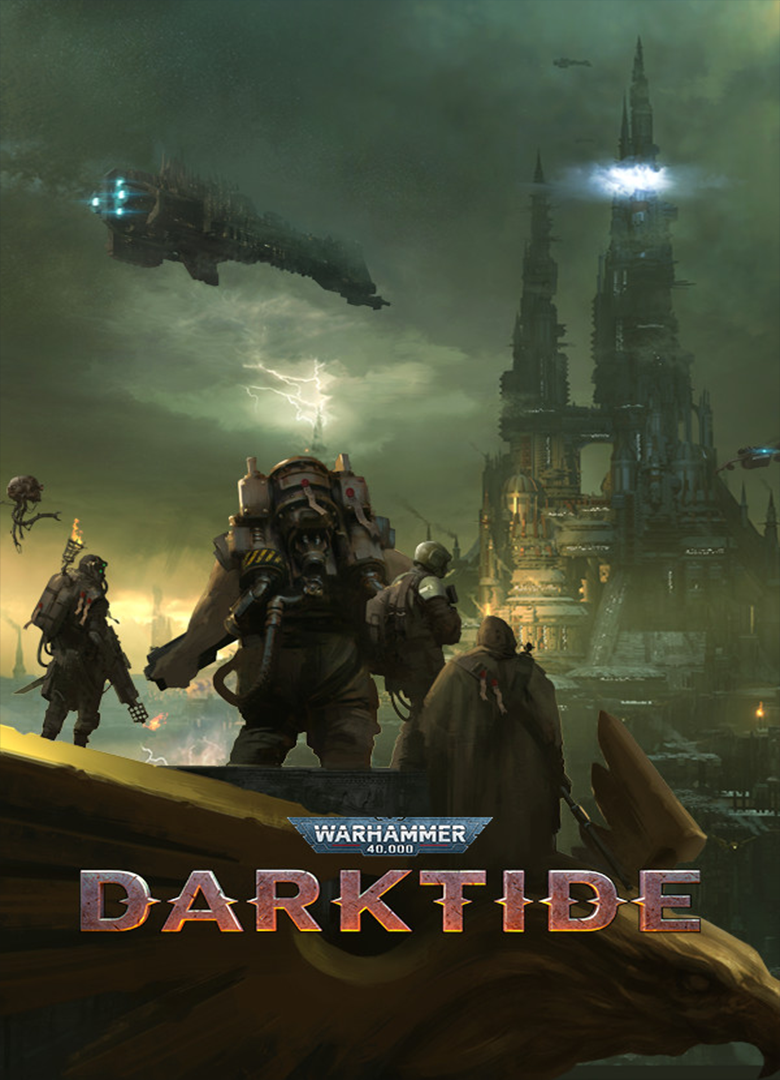 This weekend October 14th to 16th our team had the privilege to try Fatshark's closed BETA of Warhammer 40,000: Darktide.
We gathered together, jumped into Discord in varied group sizes and chugged through the delights of Darktide.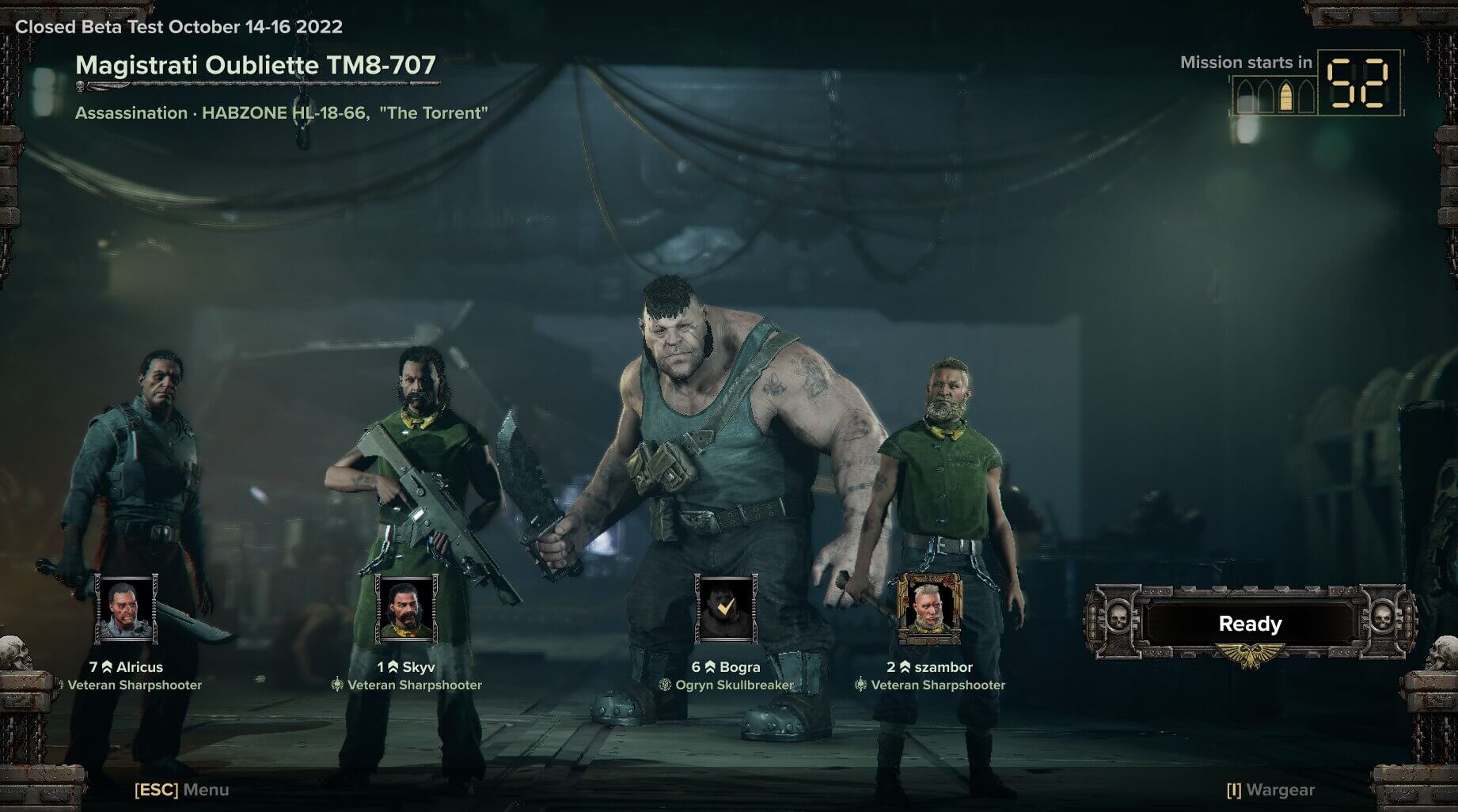 You can play with any variation of your custom characters, a refreshing step away from Vermintide.
The Poundshop Paladin, WoodTier, Farske and Zahur gathered together to dip their toes in the dark gritty hives of Darktide.
As a long time set of fans of the Warhammer 40,000 universe and the accompanying miniatures games, along with many of the computer games released within the setting over the years, Dan was eager to try his hand at the highly anticipated first person shooter that has been likened to Left 4 Dead, and more closely to Fatshark's own Vermintide series.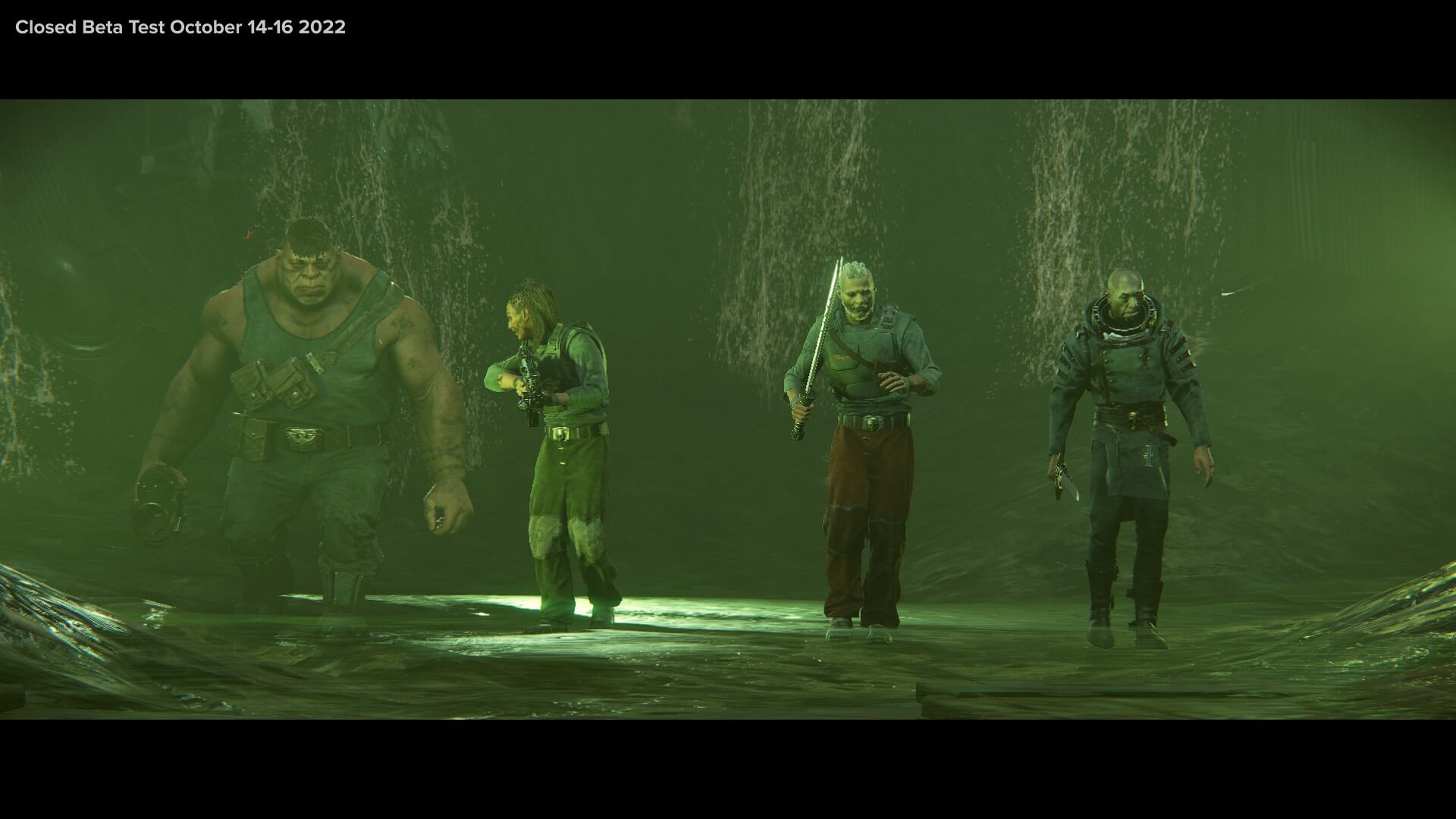 Beautiful cinematic really set the tone.
The game opens with a cinematic showing a typical party of four made up of one of each available class in the game in a dropship hurtling towards a highly dangerous mission, followed by short clips of gameplay featuring melee combat and gunplay in the depths of crumbling, dystopian, far future industrial installations.
Without a pre-existing character of your own, the game then launches you straight into creating your own operative, allowing you to choose from one of these four classes; A Veteran sharpshooter, a human soldier who has been through the wars and somehow survived so far in a universe with an astronomically high mortality rate, a 'psyker', that is a practitioner of psychic abilities that can be employed in combat, a Zealot, a frenzied fanatic devoted to the God Emperor of Mankind armed for close combat or an 'Ogryn'(Space ogre!) brute, a powerhouse of strength and resilience, able to perform feats of endurance an ordinary human can not.
I got to play an Ogryn, the sound design and aesthetic made me feel POWERFUL. - Alex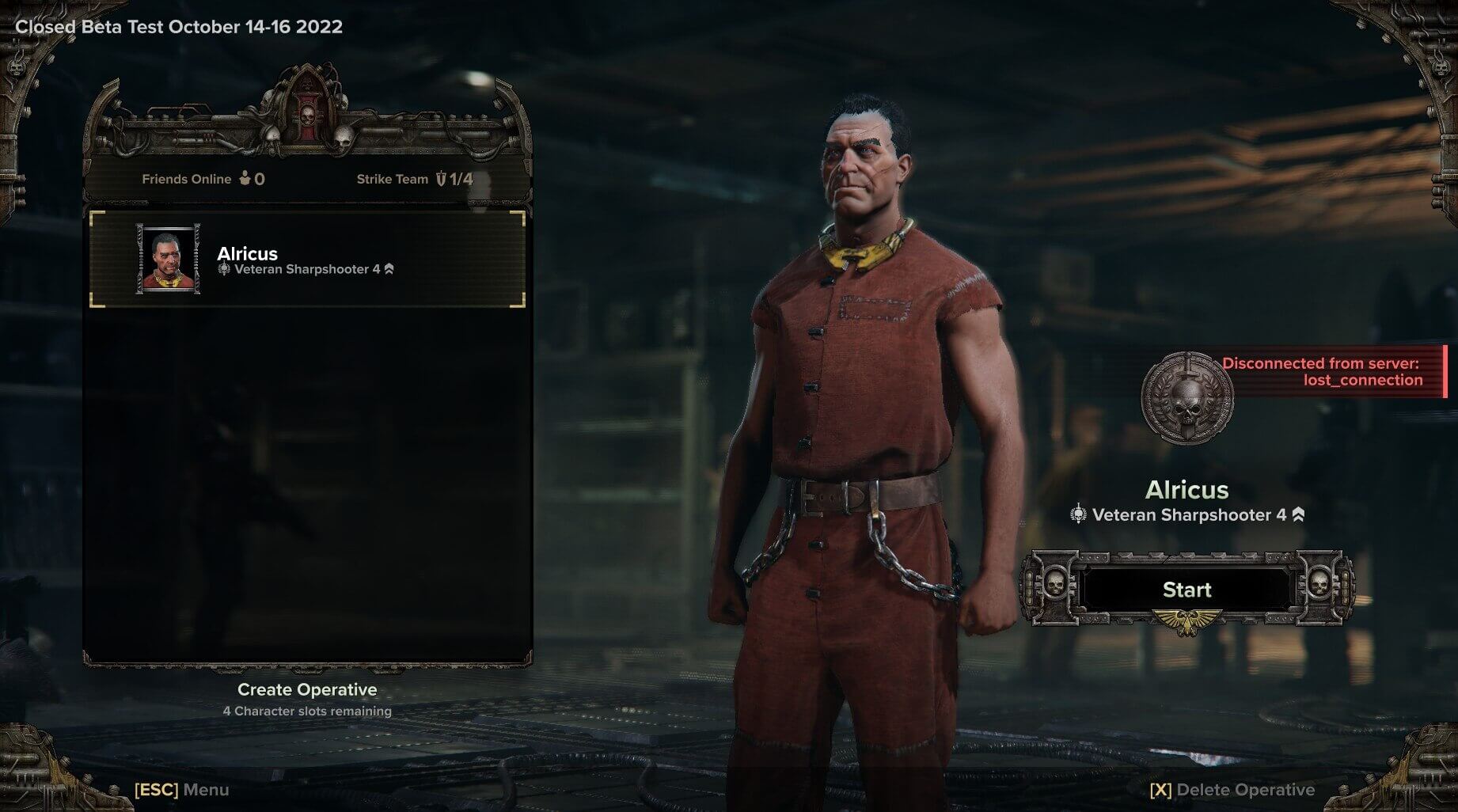 You can choose from many rejects, Veteran, Psyker, Ogryn and Zealot. HAVE THEM ALL!
And if you choose one of these classes and don't particularly enjoy it at first? Absolutely fine! You can have up to 5 characters created, so there's no barrier experiencing a variety of playstyles and classes.
As a staunch fan of the Astra Militarum or 'Imperial Guard', the downtrodden yet proud human soldier of this dark future, I felt naturally drawn towards the veteran sharpshooter, and began the character creation process. Far from the feeling of creating a square-jawed hero with a big name, you answer a series of questions about the sort of background you want this character to have; from the planet of their birth through their early life in the forces(or respective organisation) and what ultimately, their crime was that landed them in their present situation.
It felt gritty and they really hit the aesthetic mark. - Dan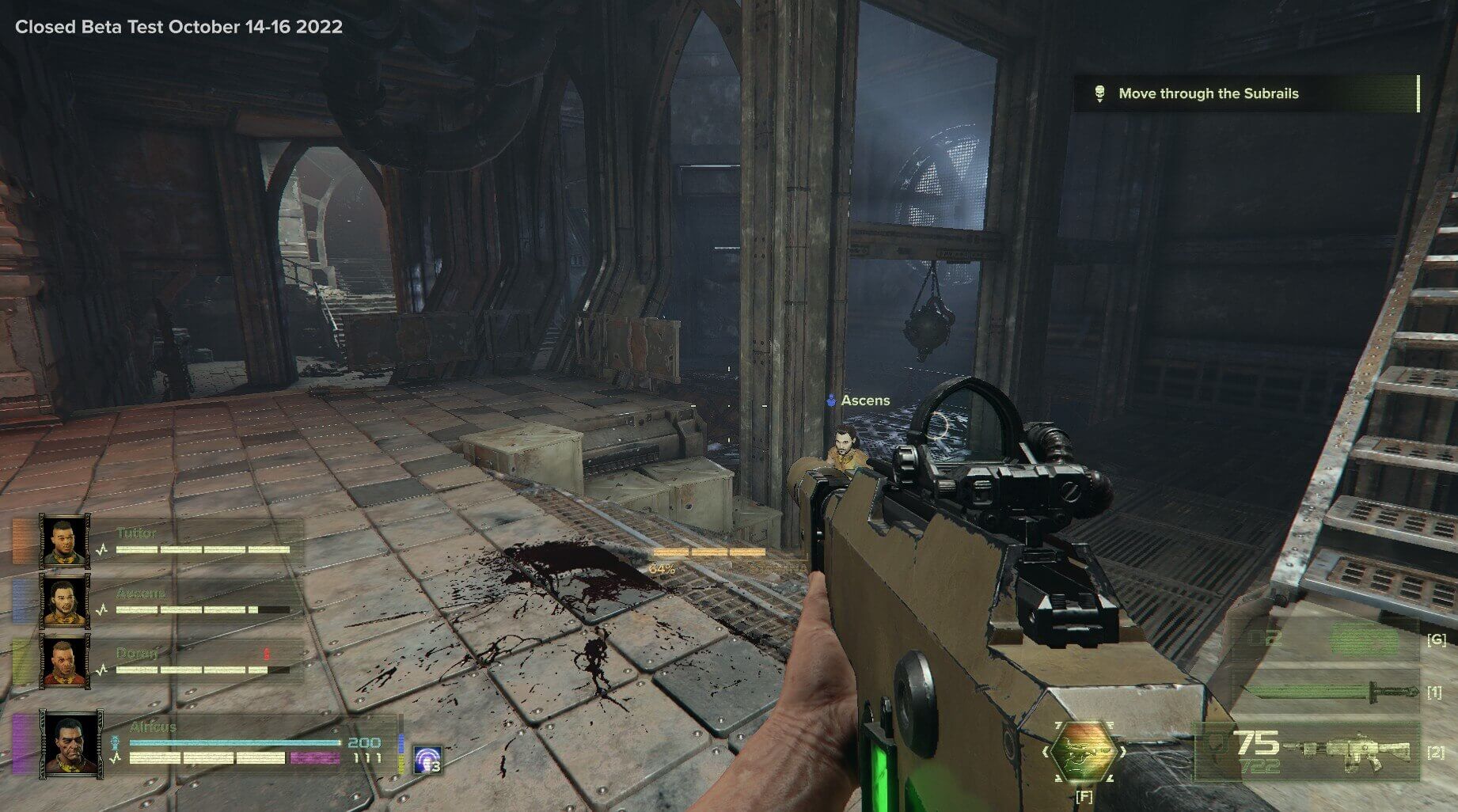 All criminals trudging through a hellforsaken mission, hoping to serve the Emperor.
Yes, to my surprise your character, no matter which class you select is a prisoner, a criminal in the eyes of Imperial law who may or may not have been guilty of their crime, but who will serve their sentence nonetheless. That sentence is to serve in a so-called 'Penal Legion', based upon a huge space cruiser named The Mourningstar, performing suicide mission after suicide mission until either they fall, or earn redemption in the eyes of The Immortal God-Emperor.
The lasgun pew cracks are just perfect to how they are described in the books - Dan
As such, your starting equipment is, as you might expect, pitiful. Being expected to go into combat in your prison overalls without even a pair of solid boots and carrying only the most basic of weapons(My soldier began with a shovel and an old lasgun (a simple laser rifle for the uninitiated)).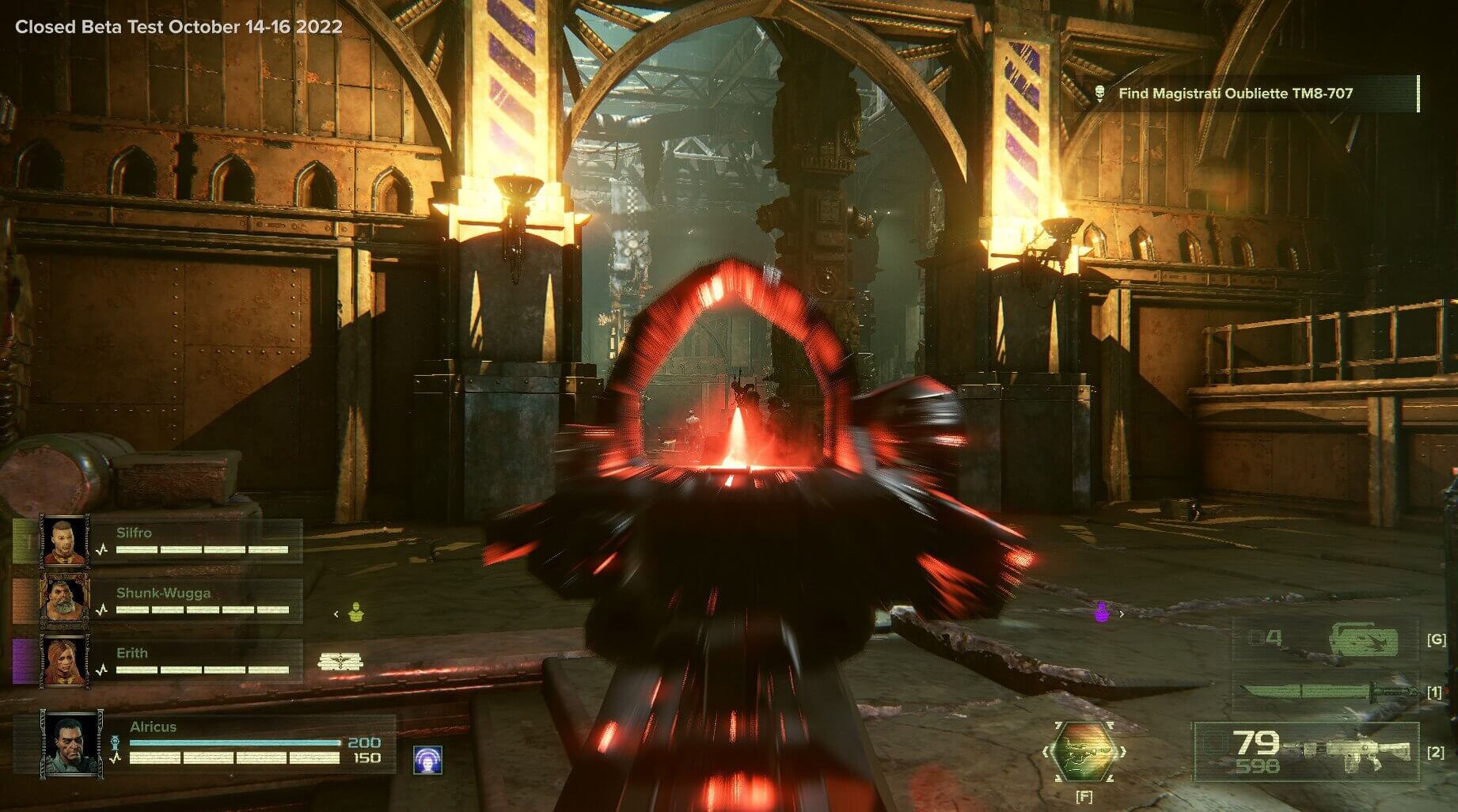 Jumping in with my Lasgun pew cracking my way through hordes of cultists.
Character creation done, I was immediately launched into a highly thematic training simulation which covered the basics and a few of the advanced aspects of gameplay, overseen by a sardonic instructor who mockingly guides you through the basic steps necessary in order to play your chosen class. Training completed, I spawned onto the deck of The Mourningstar, and to my surprise, there were other players around me.
I had been expecting a tavern of some sort akin to Vermintide, however on reflection, I realised that given the vast scale of the Warhammer 40,000 universe, it made far more sense for the game's setting to be another faceless and forgettable individual amongst countless thousands passing through this ship in hopes of finding redemption.
I loved being a nameless penal colony trooper instead of a hero in Vermindtide. It felt gritty. - Alex
The aesthetic of the Mourningstar can simply be described as perfect to the setting; festooned with a bizarre blend of fundamentalist imagery and high technology with a darkly gothic tone and low lighting, of all the games released within the Warhammer 40,000 universe over the years, I'm not sure anyone has captured the intended feel of the setting quite as well as this. Until now. Exploring what I could interact with in this area in terms of gameplay elements, I found that, at least for the purposes of the closed BETA, it was sparse. With two shops, one of which offered daily missions and rewards for special currencies, a mission terminal and an option to return to the training area to go through the tutorial again.
The mourningstar was pretty cool, if not a place of disconnections of lag.
There were, however, a number of closed doors, hinting tantalisingly at the area being expanded upon when the game is released in full. In terms of function and feel, I soon realised this area acted as a central hub very much akin to The Last City in Bungie's Destiny Series.
Whilst the ability to communicate with other, similarly clad players in this area was, at this time limited to a simple universal chat system, I can imagine that a full release will see this area replete with a multitude of players in various cosmetics emoting in various ways and talking about various aspects of the game, much as it was in Destiny.
Leveling up linked to trust unlocks more options, release should have more guns, right? - Chris
Examining my character, I realised that the character had a level, or as it is called here, 'trust'. How much 'trust' your character has earned back since their fall into ignominy determines which Areas of The Mourningstar you are permitted access to, what strength of weapon you are permitted to use (assuming you have also earned the money to request it!) and what level or difficulty of mission you will be entrusted by The Imperium to embark upon.
Speaking of cosmetics, I also later realised that as your level of trust rises, basic cosmetics are unlocked so your character can get out of those prison slacks and into something more befitting a warrior of The Emperor!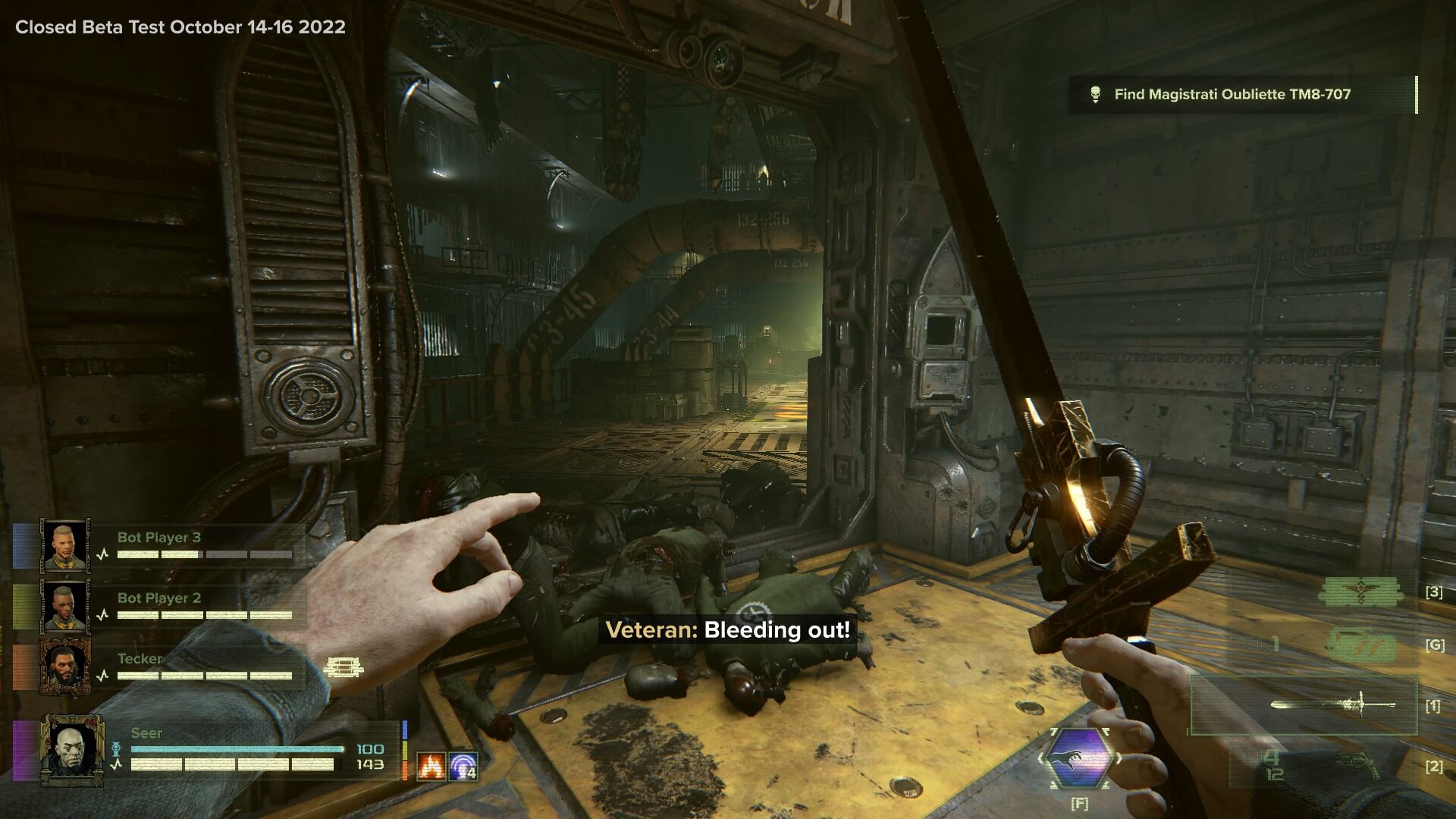 When people dropped out, bots took over but soon enough new people slotted in via quick match.


Having explored The Mourningstar as much as I could at this time, I decided to embark upon my first mission. I approached the mission terminal towards the front(I think?) of the ship; a huge hologram of a 'hive city' – the place your party will be deployed to fight until victory... or death.
The terminal gave me an option to select specific missions of varying difficulty, or simply click 'quick play' to be matched up with a party of random players.
Wishing to get right into it, I selected the latter, and found myself suddenly on board a dropship with the voice of a master sergeant relaying our orders to myself and three other unfortunates.
It's worth noting here, that there is no restriction on how many of a certain class may embark upon any given mission; a squad of four Imperial Guard veterans? Glory to The Emperor. Four Ogryns? Go break some skulls! Or any mixture of the above.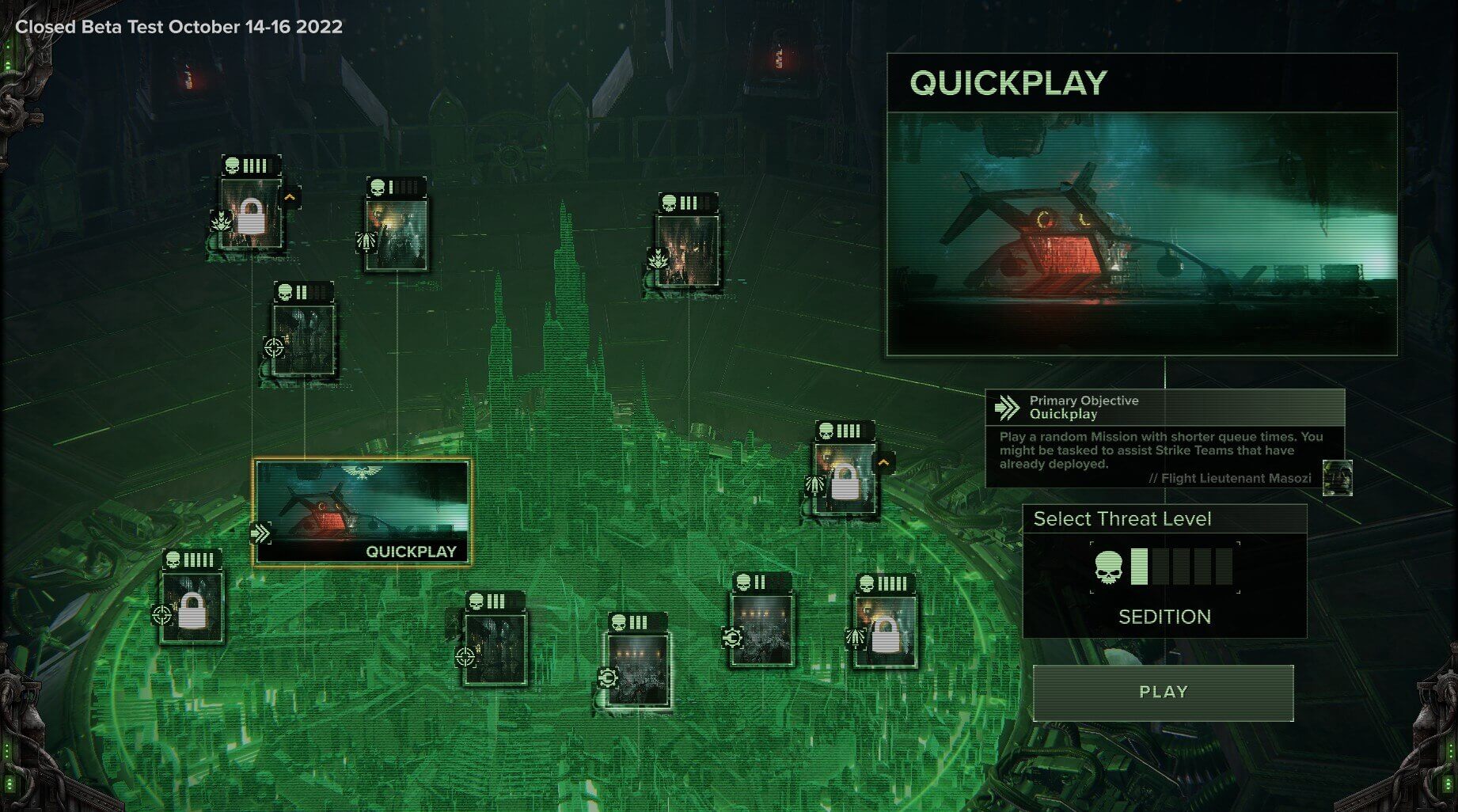 Mission select - gave a nice variety of options on timers.
As a sharpshooter, I made a point of trying to hang back to give my party support at range, however this is far from a safe tactic, as no matter how far you've progressed through any given mission, the heretical cultists can, and will appear from behind where the party entered, sometimes in huge numbers.
Further to this, the game strongly encourages the party(or 'squad) to stick together in the dark bowels of these dystopian cities, as the game mechanics punish separation to some degree.
Your character has two health bars; 'toughness', an overall representation of your character's physical resilience and worn armour, and your actual health.
When receiving damage, 'toughness' acts an ablative health bar before your character actually becomes injured, and this regenerates by remaining in close proximity to your squad mates.
There are feats that characters can gain as they level up(become more trustworthy!) that will allow a character to recover toughness of their own volition, and killing enemies in melee combat grants small amounts of toughness, however a character separated from their squad may soon find themselves separated more permanently unless they regroup and work together.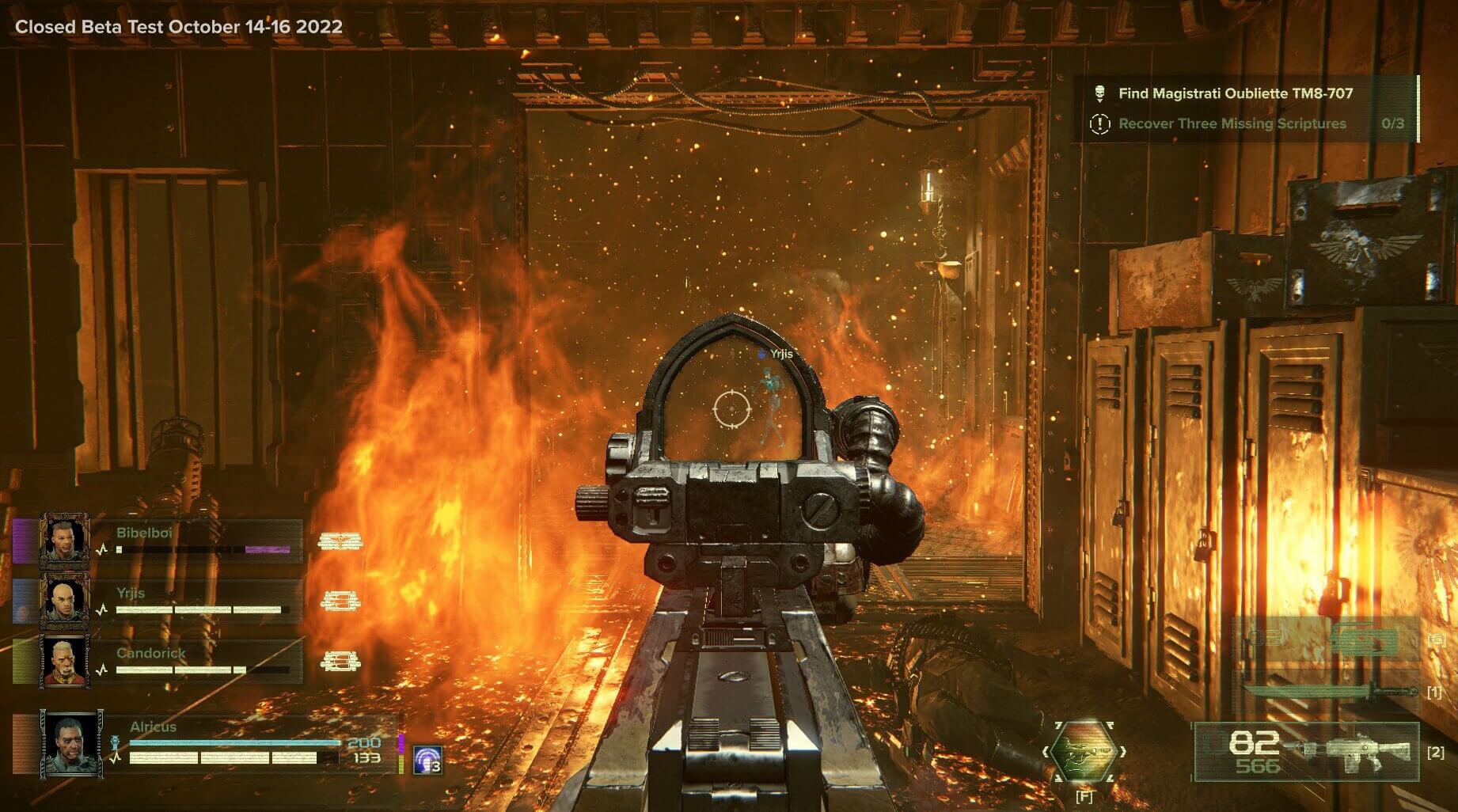 FIRE LAS PEW BURNING.
Combat itself is satisfying and 'chunky', with weapons and the manner in which they connect with enemies feeling like they have mass and substance, from the humble electronic 'snap' of a lasgun, to the thunderous rumble of the fabled 'Ogryn Ripper Gun' or for those who prefer to get up close and personal with axes, swords and even shovels, you will not be disappointed with how the armoury of the 41st millennium feels in the hands of your chosen warrior.
Conversely, the weapons don't feel too powerful either, after all, you will notice I have avoided using the word 'hero' to describe any of the classes.
These are after all, relatively normal people. At least within this setting.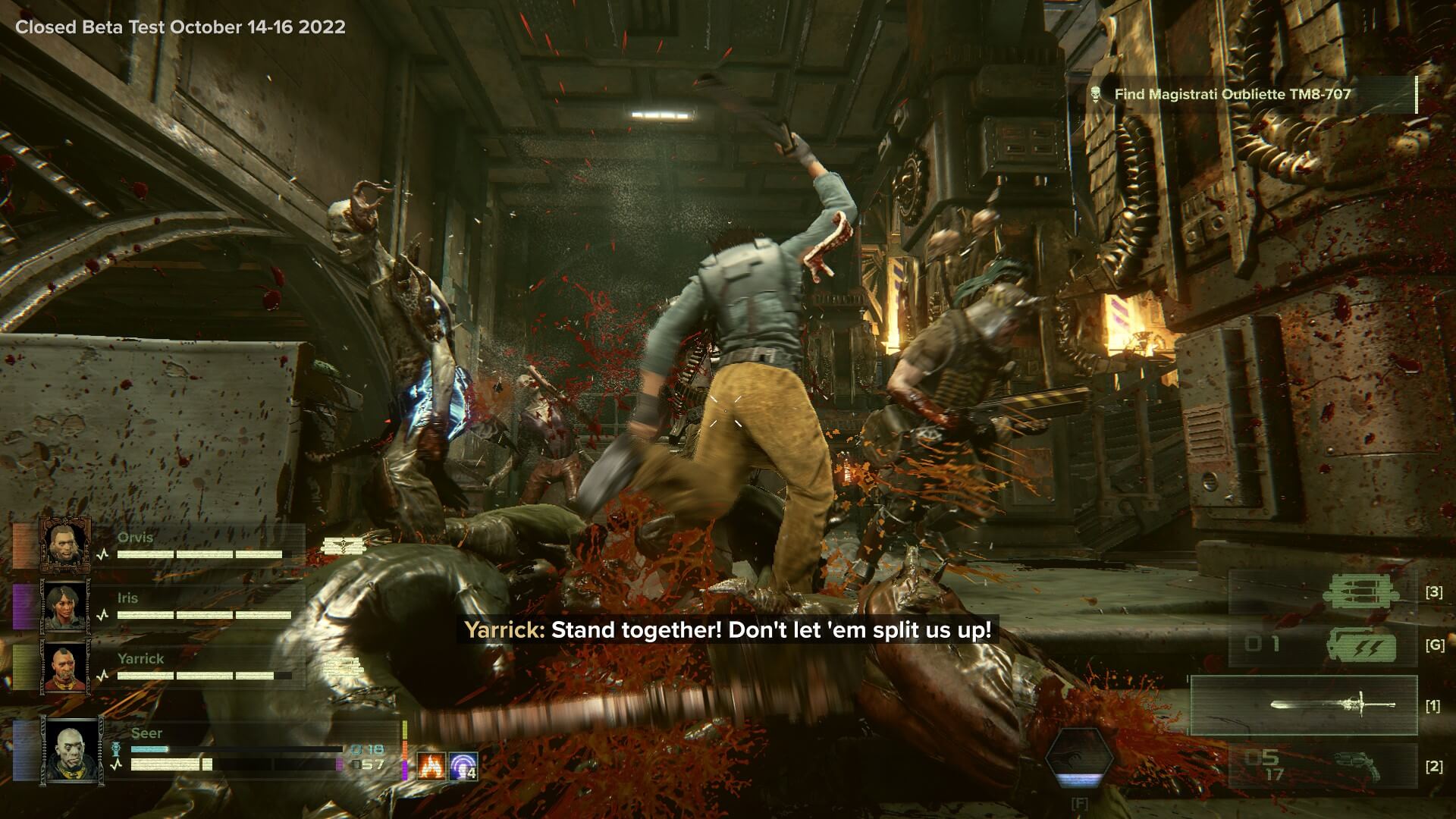 Things got quickly hectic, which we loved.
The enemies are suitably varied; from the lowly poxwalker and cultist hordes wielding crude melee weapons, all the way to the traitor Astra Militarum kitted out with flak armour and lasguns, there is a good variety of standard enemies that feel rewarding to put down in your own special way.
Interwoven with these are the specials - while some archetypes may be very familiar to veterans of both Fatshark's previous outings in the Vermintide franchise, or the Left 4 Dead franchise, such as the Mutant (charges you and pins you) or the Bomber (throws grenades on looping angles and around corners to block areas of your route), there are also some new additions like the Sniper or Mauler.
The atmosphere when on missions is remarkable, the same darkly gothic, dystopian high tech environment filled with air ducts and side doors that could produce an enemy at any time remaining consistent throughout, and the accompanying music is simply fantastic; ranging from foreboding to what can only be described as a blend of choral trance with synth elements, and is highly appropriate for the setting and what is taking place at the time.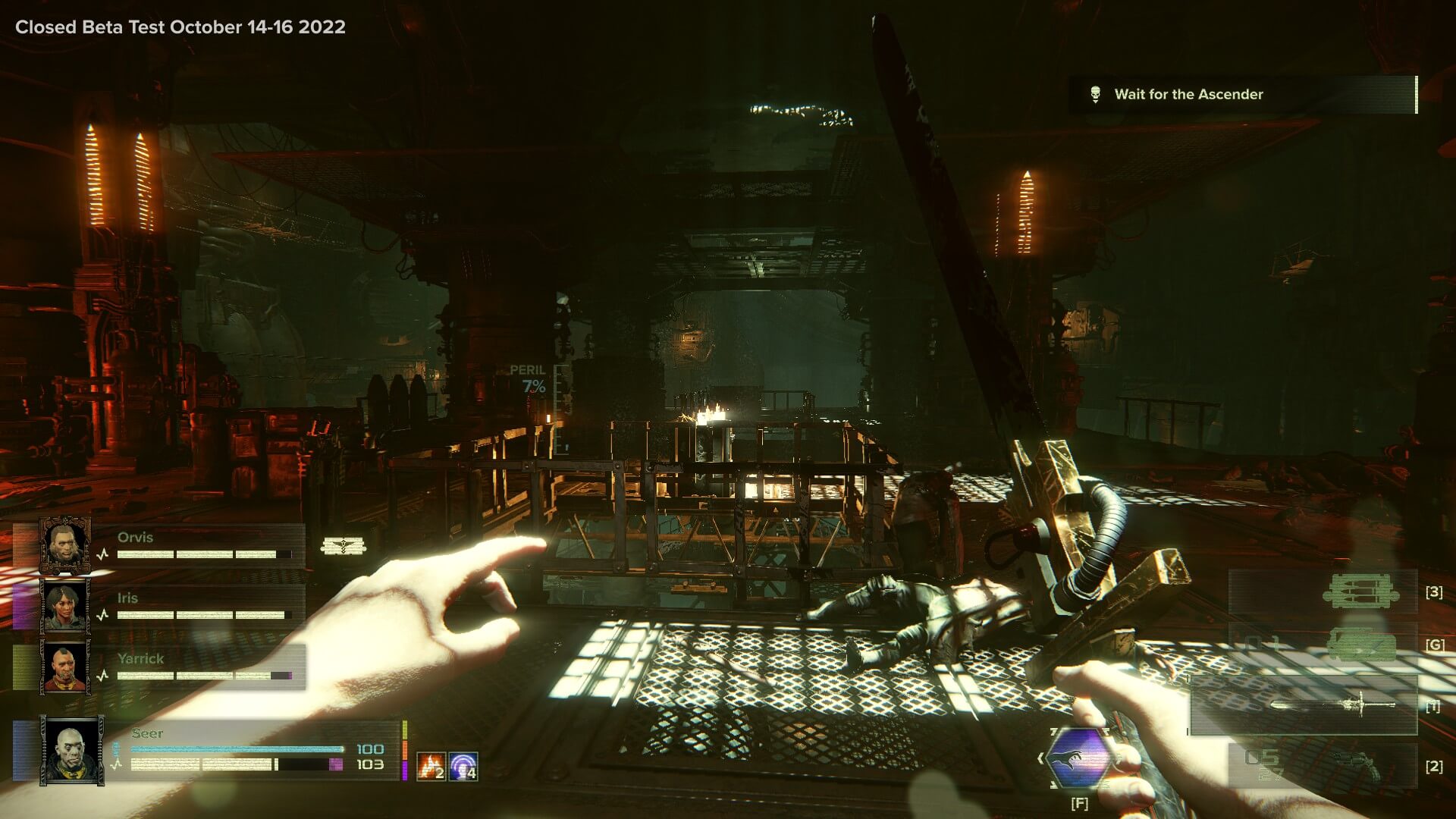 As Ogryn, Psyker and Veteran, they all have varied views with the Ogryn being much higher.
The characters will chatter back and forth as the mission progresses, remarking on their present situation or idly wondering what it would be like to meet The Emperor Himself. The voice acting is superb, and well written, feeling mostly natural and not at all forced for the most part. A point on this is that there are range of voices for you to choose for your character at creation based upon your class.

Should your character fall whilst on a mission, the action isn't necessarily over for you yet; there is a chance to be revived by your squad mates, though the merciless agents of Chaos, being what they are, will continue to hack at you until an ally comes to the rescue. Should they fail to do so, your character becomes a casualty, at which point they are held hostage and guarded by the forces of Chaos further along the path of the mission, and can be returned to action by an ally approaching them and untying them. Naturally, if all of the characters fall in this manner, they are killed and the mission is a failure.
Upon victory(or defeat...) you are presented with a post match screen showing your rewards of experience contributing towards an increase in 'trust', 'Ordo Dockets', a form of basic currency on board the Mourningstar, various other resources such as 'Plasteel' and 'Diamantine' that can be gathered in the field, and occasionally you will be granted a weapon in the form of 'The Emperor's gift'.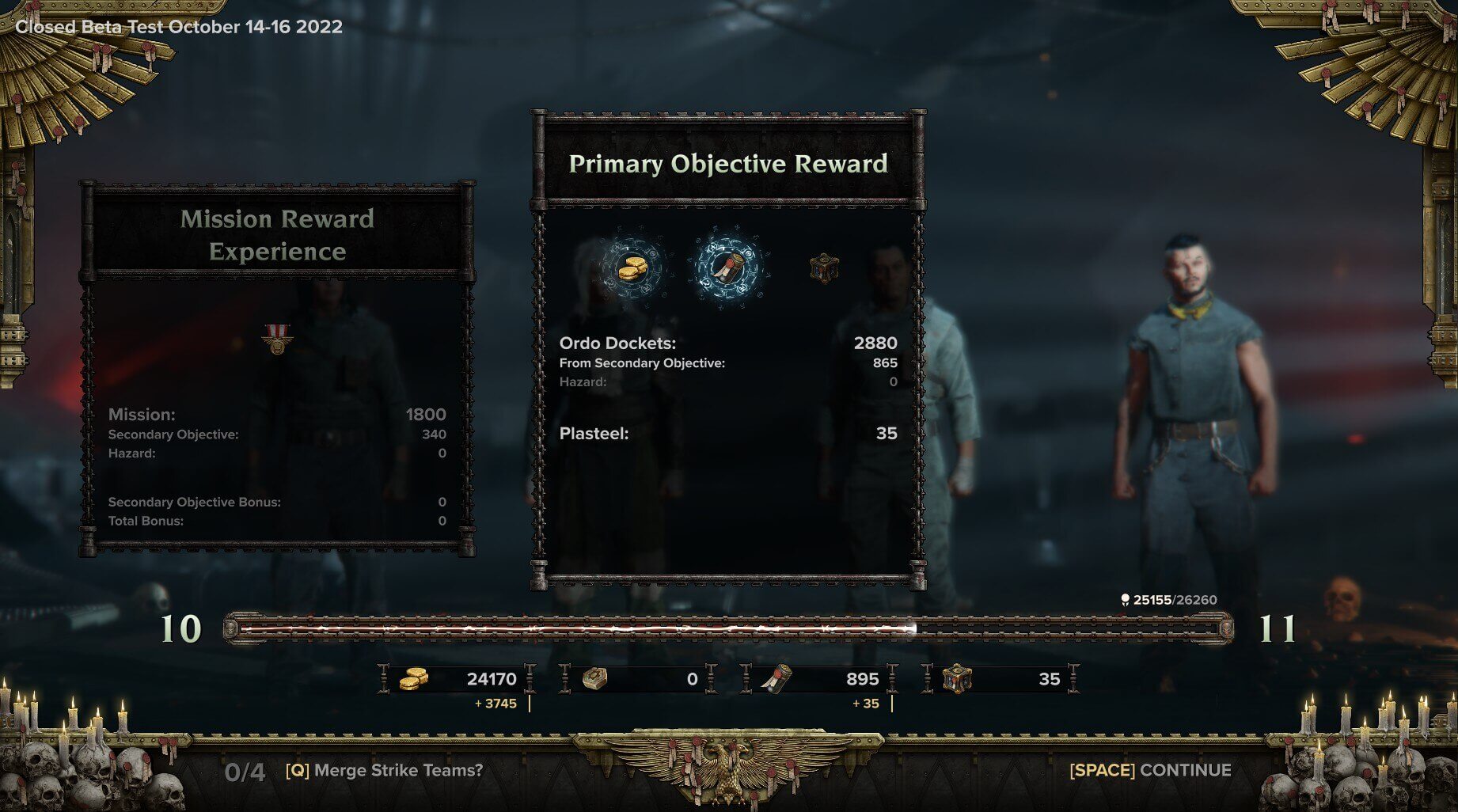 Unlock screens, I imagine will be improved come launch.
Which brings me on to the bugs and downsides, although it is worth remembering that this is absolutely not the full release of the game.

At times the game was a little unstable, and the program seemed to have a strange relationship with being in windowed mode and fullscreen, though that was, perhaps easily rectified in the settings.
Rushing through the Mournginstar to get into a mission made me wish we could skip the "lobby". - Josh
Disconnections from the deck of The Mourningstar were very frequent, however very rare when actually on a mission, so this did not feel game breaking, merely an inconvenience.
Mercifully for those who disconnect or crash from the game, there is a function to rejoin a match in progress when in a 'strike team' with friends, avoiding a lot of potential messing around with having to send out/accept invites to regroup your friends which removes most of the sting of inconvenience when this does occur.
Another relatively minor though potentially disappointing bug was that the aforementioned 'Emperor's Gift' received at the end of missions always seemed to be a completely different item to what actually appeared in your inventory thereafter, suggesting some discrepancy in the RNG responsible for assigning mission rewards.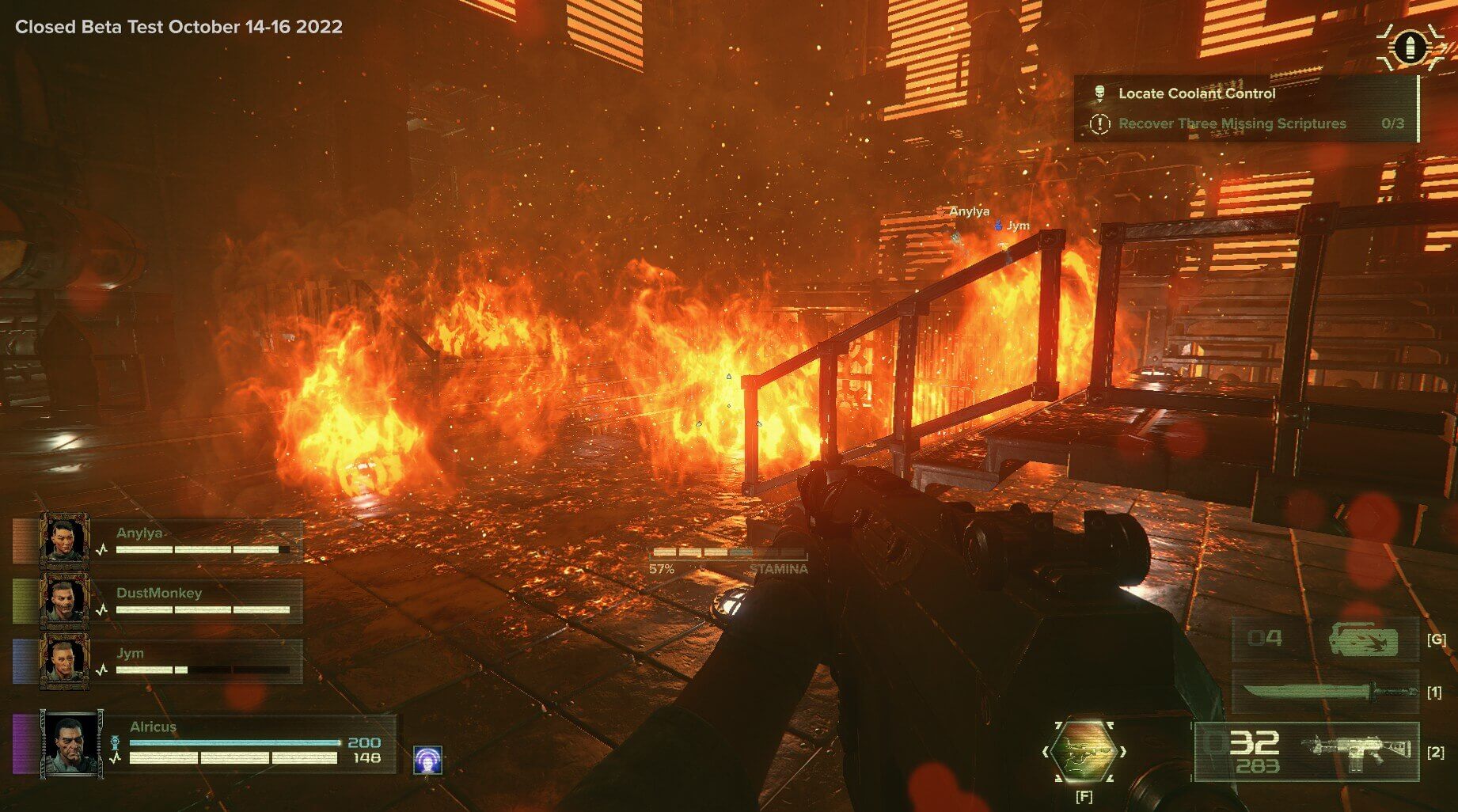 Burning, fire, and awesome effects really gave the grit feeling.
The game ran well overall for half of the team, smooth, beautiful graphics and running at 120fps, although there were occasional stutters and lags on the super machines running the latest hardware.
Sadly, some of the team with older computers couldn't top 30fps for the lower case machines. Mostly we acknowledge this as a beta, and if you have an old machine, be cautious and judge upon launch.
There was also a mission-breaking bug of a door appearing to open but not allowing players to pass through it, forcing the party to abandon the mission, although I had the good fortune not to encounter this one myself over a weekend of hard gaming on this promising upcoming title.
I have every faith given what I have seen so far that the developers at Fatshark will iron things out before full release and eagerly look forward to seeing what the game looks like in it's release state slated for November 30th 2022.
Look at these heroes, ready to go to death in a strike team.
We asked the team to give us a thumbs up or thumbs down, and we had 3 thumbs up, and 1 thumb sideways. :D

If you are a fan of The Warhammer 40,000 universe, Destiny, Left 4 Dead, Vermintide or all of the above, looking for a co-op first person shooter presented in the same vein then this is a title not to be missed.
And if you haven't been involved with any of those settings before but think it's something you'd enjoy?
Well, it's never too late to seek The Emperor's mercy.