Pokemon Killer Temtem? Ryan Reviews
Posted By: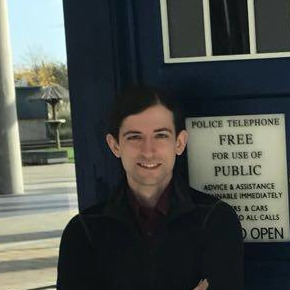 Ryan - September 26, 2022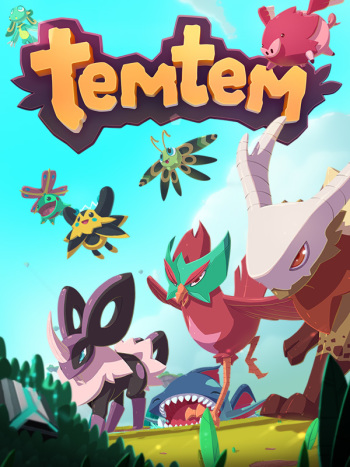 TemTem - Pokemon killer?
An indie, monster-taming MMO with PvP built into its foundation, and a full PvE story, was always going to be a sure bet for fans of the Pokémon franchise.
Temtem goes out of its way to emphasise how much of its gameplay experience is focused around competitive play, so much so that it's nigh impossible to escape, but, if PvP isn't your thing, all is not lost! I'm not a huge fan of PvP in most games either and there is still fun to be had here.
To provide context for the following review, I played 20 hours of Temtem on the Nintendo Switch and completed maybe a third of the story. I will also admit to being a huge Pokémon fan and a backer of the Temtem Kickstarter campaign, which gave me access to the Alpha while it was in development.
A little sung praise concerning the repel equivalent to start the review off positively.
Any game in this genre is obviously going to live or die by its creature design and I'm happy to say that Temtem knocks it out of the park with most of its temtem designs.
The developers, Crema, clearly focused a lot of their efforts on nailing the look of all 164 temtem, including those submitted by backers, and most fit either the environment they are found in or their typing perfectly.
Temtem has 164 critters to collect.
This attention to detail reaches to the game world itself, both for overworld travel and whilst in-battle. The location in which a battle takes place may not affect the battle itself, but the 3D animated terrain lends an air of verisimilitude to the experience that other games in the genre frequently struggle to create with 2D background textures.
Everything is drenched in vibrant colours and, with the exception of hidden items, I rarely found myself struggling to identify everything on the screen, both in docked and handheld modes.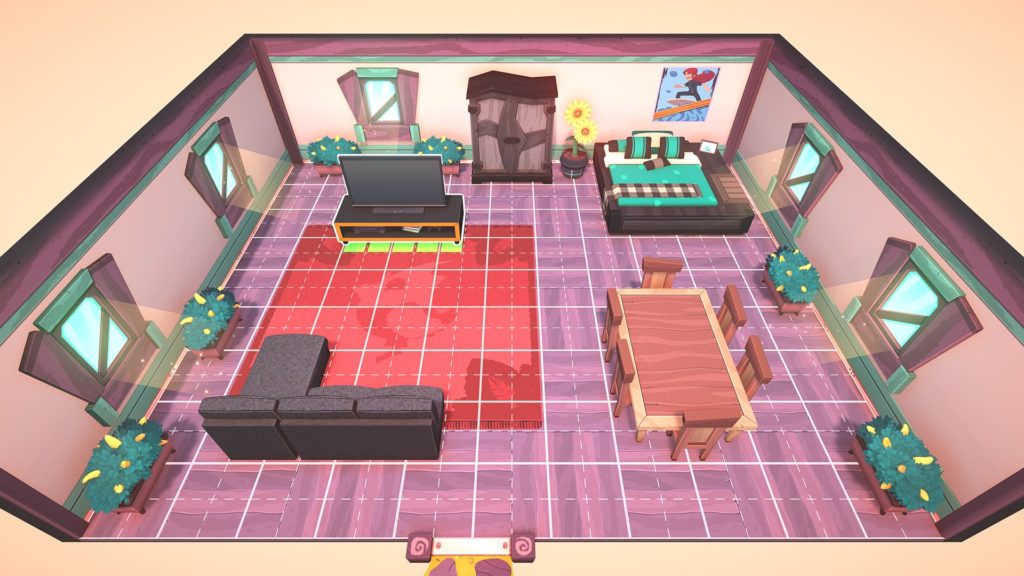 Create and Decorate your own places.
Some collectibles are intentionally difficult to find – they are denoted by small, sparkling patches as opposed to easy-to-see boxes – but for the most part, I found the bright colours didn't overwhelm me or trigger any of my visual processing issues.
All the movement, battle, and incidental animations I encountered were crisp, easy to read, and were believably in-world, so to speak.
A few seemed to last slightly too long, but that is likely down to personal taste. Really, the only flaw I found in the game's graphics was the lack of variety on the human models. Sure, there is a wide array of cosmetic options the developers have made good use of, but each generic NPC bears to a staggering resemblance to each other NPC of their type, save for plot-important characters, of course.
Hardly a large flaw, or one worth really noting, but there nonetheless.
Lush colours, symphonic sounds, and a challenging gameplay.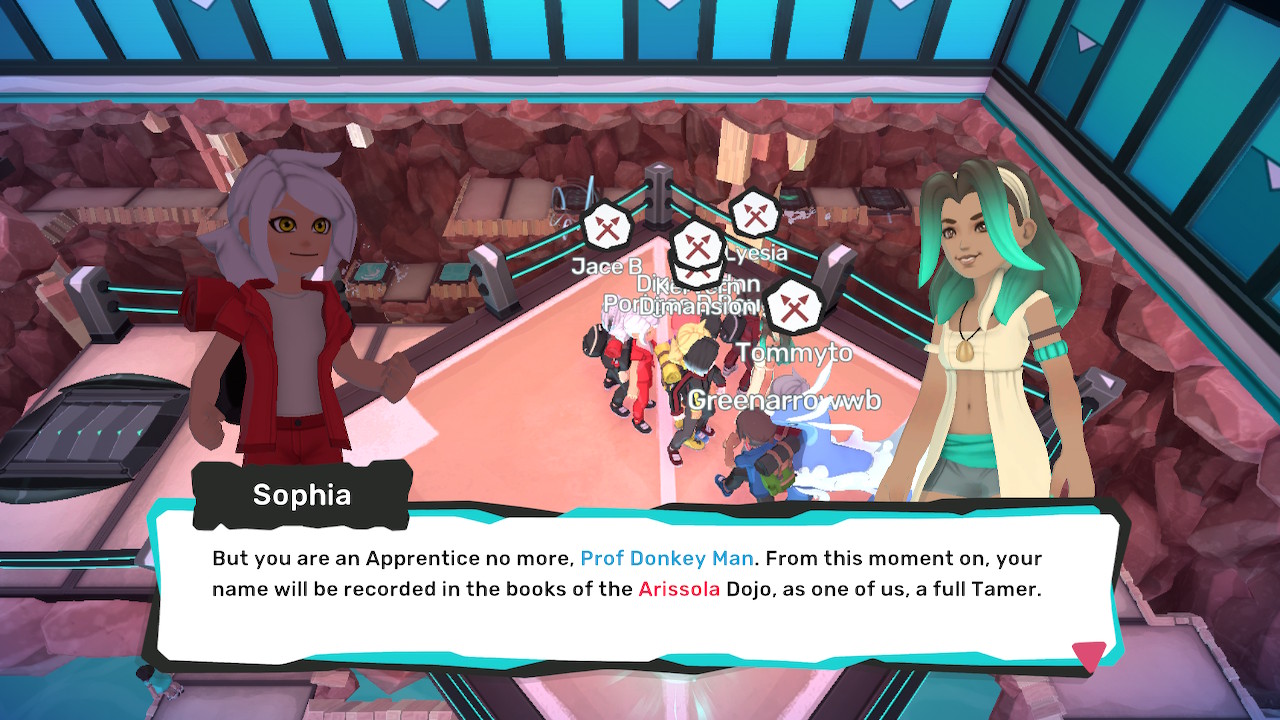 I promise, the Dojo Leader IS in there. Somewhere.
The sound design is a mixed bag, but not necessarily in a bad way. Incidental sounds from overworld travel and other ambient effects are what you'd expect: functional but not designed to impact the game in any major way. The two main areas of sound that are important here are the temtem cries and the game's soundtrack.
The cries are… well, let's say that it's surprising the first time you hear a duck quack after setting out on your journey. Like most games in the genre, temtem cries are a short audio clip of synthesised sound; except when they aren't.
Temtem critters are based off real animal sounds.
Some temtem, mostly the ones based on real animals, instead use recordings of those animals as their cry, which may bring a more emotional angle to the game as you hear the cries mostly when you begin an encounter and when you knock a temtem out. I cannot speak for the developer's original intentions, of course, but it does ground Temtem in a way few other creature collection games are grounded by hearing 'real world' sounds in the game.
They thought we wouldn't notice…
The soundtrack is fantastic and a definite highpoint. While writing this review I was listening to the full symphonic backing that scores the game experience. Each area has its own motif, with specific instruments being used to convey a sense of the culture you are currently exploring – each of the game's six islands is themed around a different country or geographical region – and each track blends with the next, mostly, smoothly as you cross between locations.
The game's bosses even get their own themes, a few of which come complete with Latin vocals. With 94 tracks on the official OST, this is a soundtrack I would expect to find alongside a JRPG made on a much bigger budget with a far larger scope.
Each track is wonderful and perfectly composed, the downside being that the different instruments and harmonies make the music difficult to hum along to.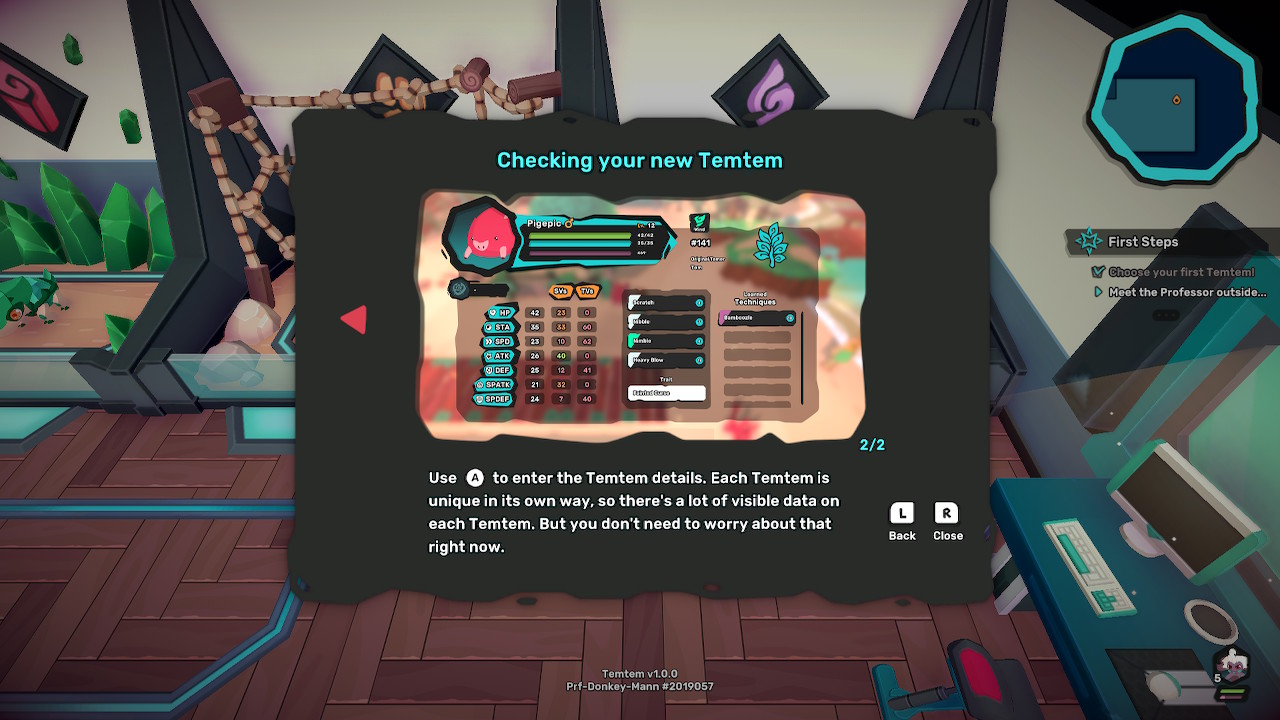 You won't need to know more than this for a casual experience.
Competitive MMO meets casual single-player experience.
Usually, at this point, I would talk, at length, about the UI and maybe even the UX, or user interface and user experience respectively, but I cannot do that here. Not as I ordinarily would, anyway. Temtem, as I've said, was created from the ground up with a focus on competitive play, so to talk about UI/UX without talking about the gameplay itself would be nigh impossible.
For those unfamiliar with creature collection games, you travel the world, capturing a wide variety of creatures with differing elemental types, gain experience by battling wild creatures, as well as other trainers, in one-on-one creature fights, and usually end up saving the world while you're at it. Oh, and most often you're a pre-teen.
Multiplayer frequently comes in the form of competitive battles where your team of six creatures fights an opponent's team.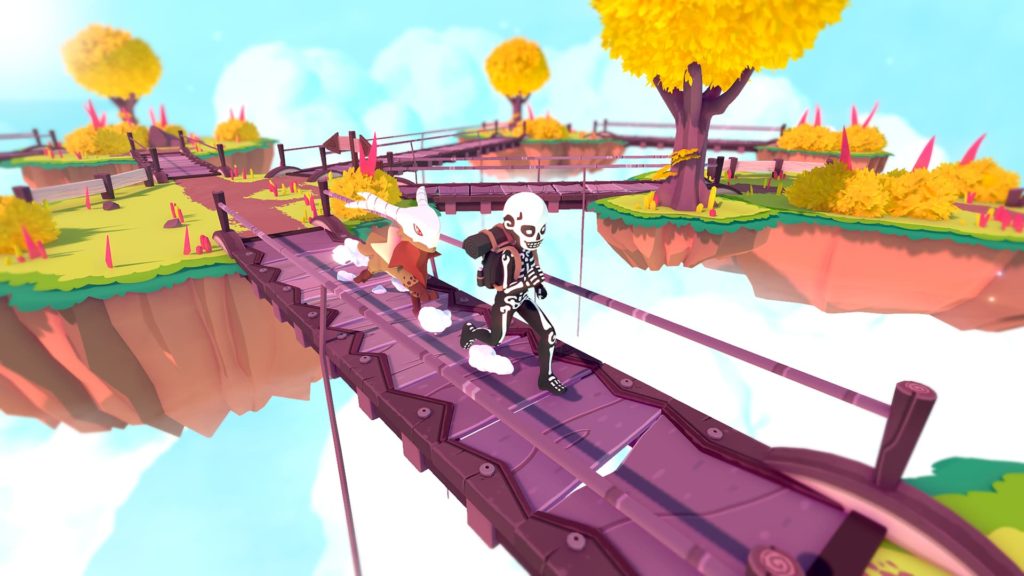 Temtem's approach largely matches the formula with a handful of differences. Every battle in the game sees you send two temtem into the field, something that I don't think any other game in this genre does (although I'm no expert), and some temtem have moves that change based on the typing of the temtem they are fighting alongside, for example, they may deal extra damage or inflict a status condition.
Not every battle is a two-vs.-two affair, however, and some NPCs have a single temtem that is of a higher level than the ones around it. More importantly, for those who enjoy such things, this means the entire game can be played co-operatively.
Co-op allowed me to team up with any players at any levels.
When played co-operatively, the player with the higher-level temtem, or who is further along in the story, is locked to the progress of the lower-level player and each player has access to the top three members of their team in battle.
This means that you can assemble a team of higher-level temtem to help someone who is struggling with a certain section of the game, or play the entire game through in co-op without worrying about outpacing your partner.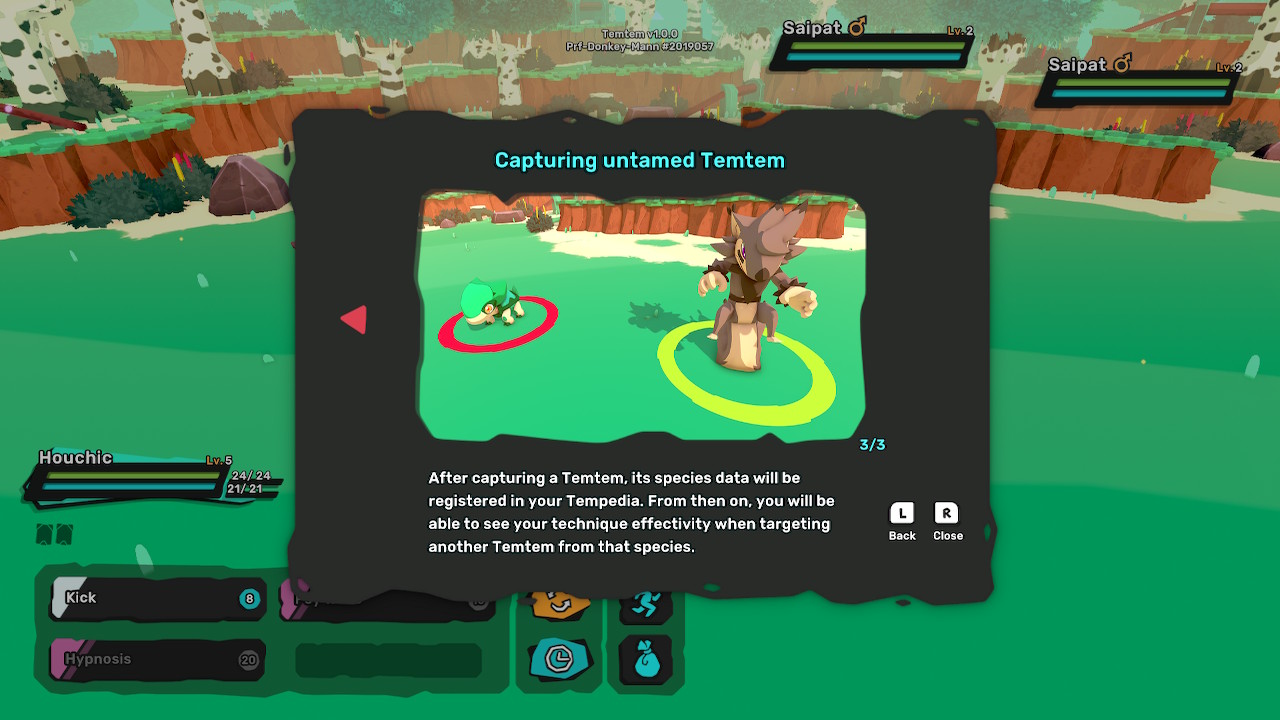 It's nice to have a reason to catch, or evolve, temtem beyond making the number go up.
Another difference between Temtem and Pokémon – as the genre heavyweight – is the use of a stamina system in battle. In place of being able to be used a certain number of times, each move costs a set amount of stamina, some even have cooldowns. Your temtem regains a small amount of stamina at the end of every turn, and can spend a turn waiting to regain even more stamina.
This passive regeneration occurs even when your temtem is not an active battler, and all stamina bars are refilled after a fight is over. The stamina system isn't unique to Temtem, I enjoyed its use in Nexomon, but it does make each fight a more tactical affair as you balance damage with waiting times.
A balanced, consistent PvP experience.
The other main difference, and the one that ties in with the UI/UX, is the focus on competitive play. Some creature collection games use randomness to alter the flow of the game and to remove the certainty that a particular strategy will always be the winning strategy. Temtem has very little randomness, preferring static values and fixed duration effects.
The only randomness that I noted was which temtem attacked me, their starting stats (called TVs), and how many attempts it took to capture them. When you do capture a temtem, you are given a full breakdown of its stats – rated 1 to 50 – and a visual indicator of whether a stat is good or not; take it from me, the higher the numbers, the easier the game.
The focus is very much on tactical gameplay that rewards patience and good decision making, so much so that I noticed a distinct toning down of the difficulty between the alpha version of the game and what I played at release.
The UI is also used to good effect to convey effect durations, status effects, the effectiveness of move types and even how close your temtem is to levelling up.
Of note is also the fact that whenever a temtem's trait – each temtem will have one of two abilities shared by all temtem of that kind – affects the battle, it pops up on screen as an explanation of why a move did more, or less, than you expected it to do.
It would have been nice to have a full list of traits in-game to consult at will, but we can't have everything and there are a lot of them. You can, however, reread the game's many tutorials whenever you want.
The information I mentioned in this clip was included in a tutorial that popped up MUCH later, long after it would have been useful to know.
The story, as I've said, is pretty standard: a pre-teen voyages out into the world with their temtem at their side and foils an evil team. As dismissive as that sounds, the game is well-written – minus some mistakes that can be accounted for by the fact that Crema are a Spanish development studio – and there is a wide variety of characters to meet and interact with.
The story is standard, but accessible.
Things to note are that your rival, Max, is canonically non-binary and uses they/them pronouns, and the large number of LGBTQIA+ NPCs. Interestingly, most of those NPCs are in female/female relationships, but there are NPCs who exhibit an interest in the player character, whose physical appearance and pronouns are completely separate but both customisable, regardless of their gender.
As a non-binary person, it was nice seeing a game whose writing accommodated the singular 'they' by using non-gendered language that I am using contextual clues to assume changes to reflect your pronoun choice rather than being ungendered for all players.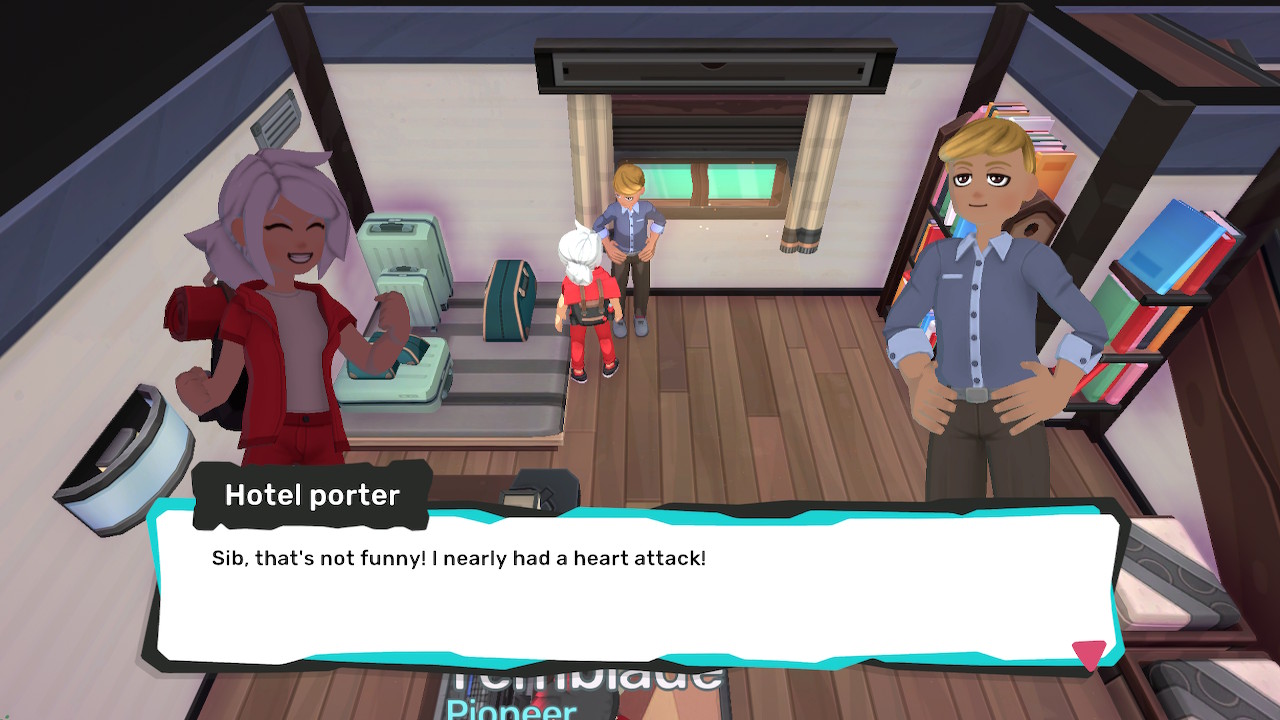 I'm reasonably confident that if I'd chosen he/him pronouns, this NPC would say 'bro' instead of 'sib'.
PvE or PvP? The MMO question.
Up until this point in the review, you may be forgiven for thinking this sounds like a standard single player game, albeit with the option to play through it in co-op, and you wouldn't be wrong. From wide research, and from what the game tells me, the main longevity here is the post-game material.
Once you have beaten the story, you are free to take on a variety of PvP focussed activities, as well as the usual catching activities – including hunting down temtem that have a different colour scheme to their counterparts and are guaranteed to have three perfect stats but have a low spawn chance – and the option to breed the perfect temtem through a lot of hard work and patience.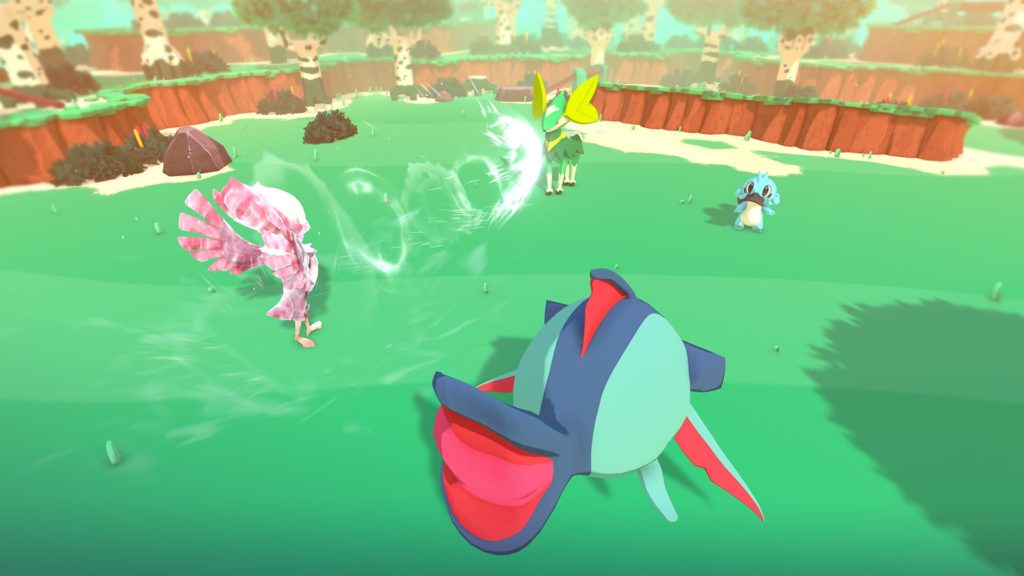 The main focus appears to be on dojos – extremely time-intensive raids that require each team to compete in a tournament on a weekly basis to retain their hold on the dojo – but casual, and competitive battles with alternate rulesets, a wide range of activities with different restrictions, and even a co-operative dungeon with custom settings and rewards that you can choose, are intended to keep you playing well after the story has finished.
To prepare you for the endgame, you can refight each dojo leader once a week for a monetary reward and each has a competitive ruleset for you to master, as well as a pool of random temtem they will 'choose' from to keep the experience fresh.
The downside of all this is that Crema have added three currencies to the game: one you earn through play, one you can buy, and one you earn through completing certain activities. This is all on top of a battle pass system. Fortunately, each currency is used for a specific thing and the paid currency is used only for cosmetic items, of which there are a lot, but this may still rankle some.
This is clearly what Crema expects you to spend most of your post game experience doing. So much so it has the longest tutorial I encountered in the game.
In the 20 hours I played for this review, and the extra I've played because I wanted to, I encountered one major bug: if a temtem evolves mid-battle – which I'm not sure they should do – the entire screen goes black, save for the UI, and the results screen is covered in in-game symbols for the elemental types and other items, including the consoles you can play the game on.
As a note on the polish of the technical specs, the main difference between all the platforms is the Switch version runs at a capped 30fps and has no shadows. I believe other platforms have an uncapped framerate and enjoy soft shadows. I do not know if this is unique to the Switch, but my game also frequently crashed after playing for more than an hour and suffered from noticeable lag when entering new areas.
In which I explain the cool way evolution is handled and demonstrate the bug described in the paragraph above.
Temtem can be purchased on the Nintendo Switch, PC, PlayStation 5, and Xbox Series X/S for around £39.99 and, honestly, it's worth it for the 60 hours-plus story alone, if you like creature collection games and are looking for a challenge. There is one caveat: this is technically an MMO so you will also need to buy the online service of the platform you are playing it on.
Overall, I would recommend Temtem but I feel like the MMO aspect was bolted onto it for publicity. It's cool to see other players running around the world, although it sometimes makes it hard to see items on the ground, or the NPC you need to talk to in order to progress, but most of the post-game activities are single player, the story is long, even for this kind of game, and there doesn't seem to be any real reason for the MMO aspect save for the ability to challenge anyone in the server instance to a battle as long as you are close enough. The game even lets you turn off most of the MMO aspects of the UI, including the chat.
Overall I would recommend TemTem.
Ultimately, Temtem feels like it is unsure of what it wants to be. It's a challenging, but well-balanced, single player creature collection game with almost superfluous multiplayer elements and a microtransaction-based economy that will likely turn some potential players away.
Max is THE quintessential they/them out to cause may/hem.
Check out the Temtem trailer below: