Fueled up a chaotic couch co-op reviewed
Posted By: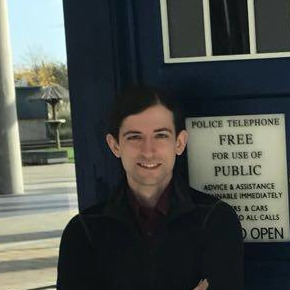 Ryan - October 28, 2022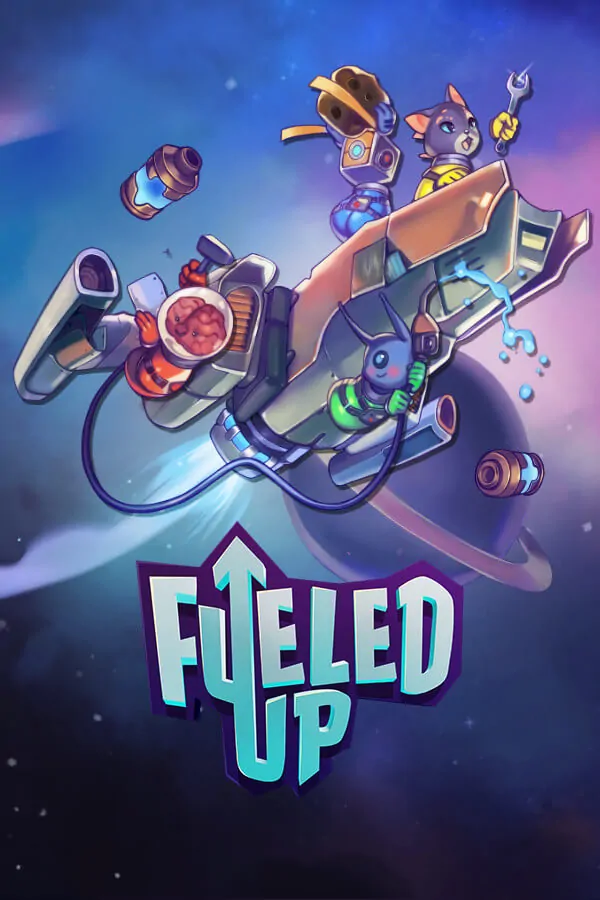 Space-borne chaos or a shiny re-tread of old ground?
Couch co-op party games are a small, but still popular, genre. As evidenced by games like Overcooked and Moving Out, there's a need for one-to-four-player games that rely on communication, a willingness to make mistakes, and an almost sadistic urge to test the strength of friendships.
Make no mistake, much like its chaotic forebears, Fueled Up will also put your relationships to the test.
Huge thanks to my fellow reviewer, and multiplayer partner for the past 12 and a half years, Jenny.
Jenny joined me and helped me out with this review by playing the game alongside me and checking my impressions matched up with her own.
We played via local multiplayer on an Xbox One X hooked up to a television – this will be important later.
While it has no distinct visual style, Fueled Up is a pretty game where smooth textures, particle effects, and flashing lights all compete for your attention. I suspect this is mostly due to the camera being positioned such that you can see the entire map, and thus not have to worry about moving your viewpoint in addition to everything else clamouring for your attention.
The viewpoint does make certain things harder to see than others, although you may find these issues are solved by playing on a larger, or closer, display than we were using.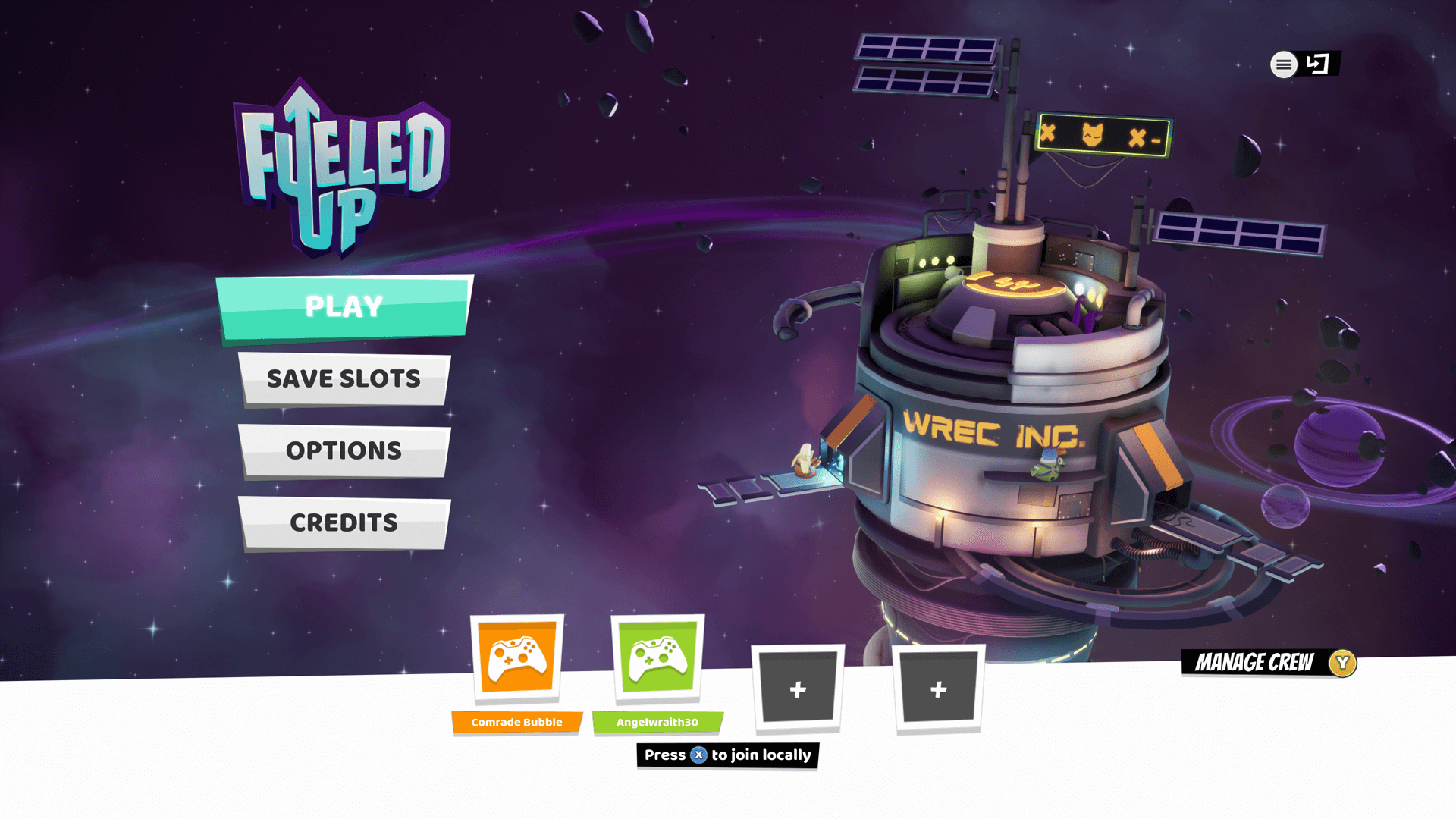 Not only does the menu show your assigned colour, your character is added to the space station.
The player models are cute, and customisable, and each is colour-coded to player number. The player one position is a bright orange, the player two is a bright green and so on. The colour of the player character's overalls is matched by a circle around their feet to make them easy to see when in game.
Aside from character models, both the player characters and the space squid and octopus that are an ever-present threat, the only other things you see in any great, and therefore cute, detail are the tutorials, which are text-based with images, and an NPC that is responsible for delivering the bare bones of a plot.
It is in the sound design that Fueled Up's greatest strength and its greatest weakness lie.
The core concept here is that you are emergency engineers racing to repair ships and return them before one of any number of loss conditions triggers.
With the camera zoomed out to show the entire floorplan of the ship, you end up relying a lot on audio cues, rather than the visual triggers that were Overcooked's main way of conveying information about the game state.
Accessibility is key, and audio cues are a vital part of that.
Fueled Up does a fantastic job of conveying what is happening through audio cues, and each one is distinct enough that you quickly learn to tell them apart and respond to each problem accordingly.
The problem is that there is so much going wrong that the cues overlap and, while each is still clear and easy to distinguish, if you suffer from audio processing issues, or simply dislike repetitive sounds, this is not the game for you.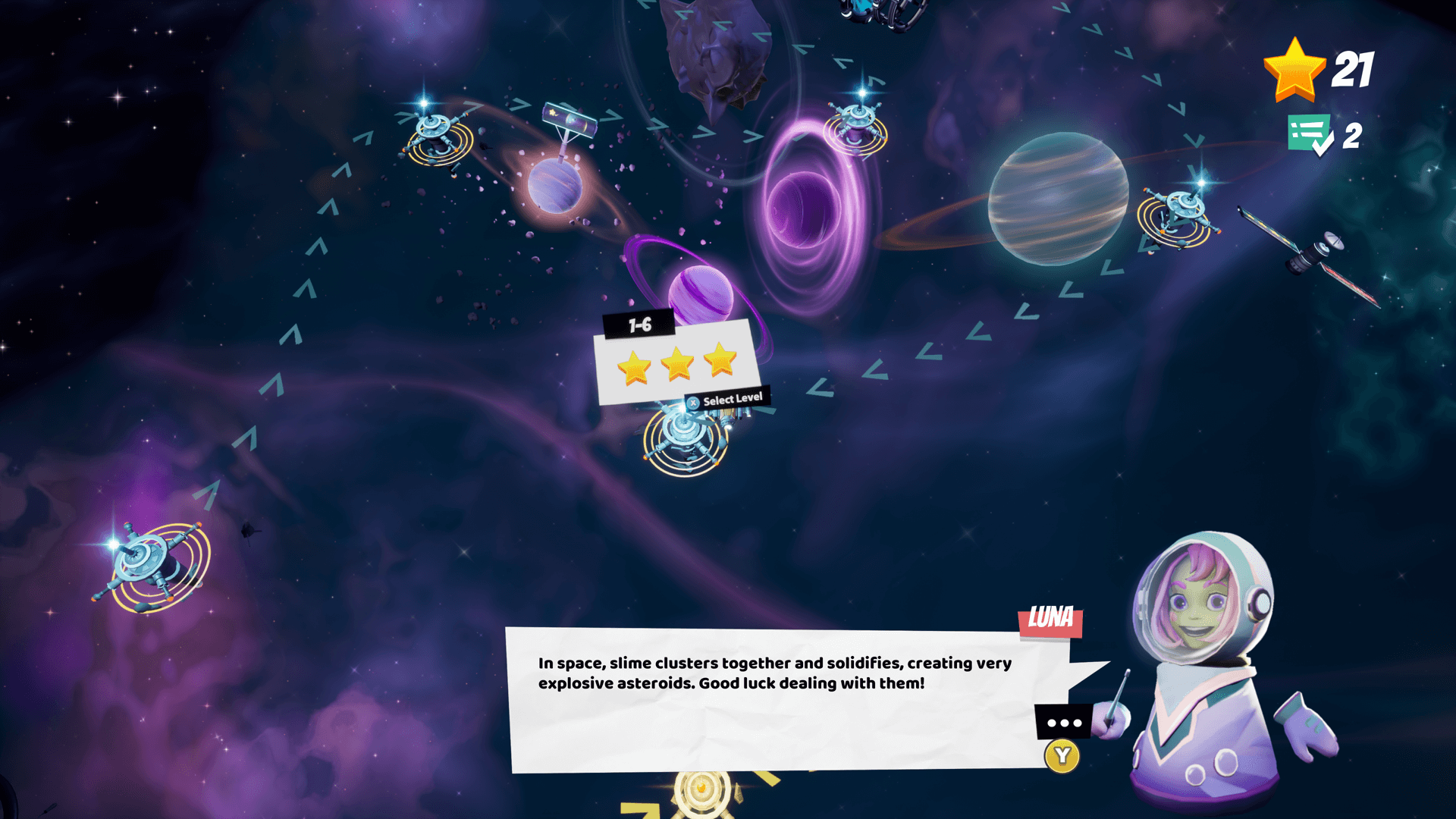 Pinball simulator, exposition, score prompts, AND the end of the Universe. What's not to love?
The ambient soundtrack on the mission select screen is a music loop that borders on annoying, and each level is short enough that the alarms blaring nearly constantly don't become infuriating, but both Jenny and I could only play in short bursts to avoid getting irritated by the constant assault on our hearing.
Just because the cues are clear and easy to distinguish, doesn't mean they're pleasant to hear.
On a more positive note, the gameplay loop is solid.
Each level has a variety of environmental problems that need overcoming to keep the spaceship moving, and ahead of the giant space octopus, and each is explained by a simple tutorial as it is introduced. Well, most are. Some of the problems are either entirely unexplained – wormholes, I'm looking at you – or the tutorial doesn't explain enough.
That said, each is reasonably easy to figure out, so it's not a big problem, just a niggling one.
Once you know what you're doing, however, the game flows smoothly as you deal with problems when they occur, anticipate what is coming, and generally try to keep your communication calm and collected as alarms blare, airlocks vent, and smoke fills the room.
There were a few places where a difficulty spike made Jenny and I feel like we couldn't continue playing the game without inviting a third player to join us, but by figuring out what we needed to focus on, instead of trying to keep on top of everything, we did manage to push through.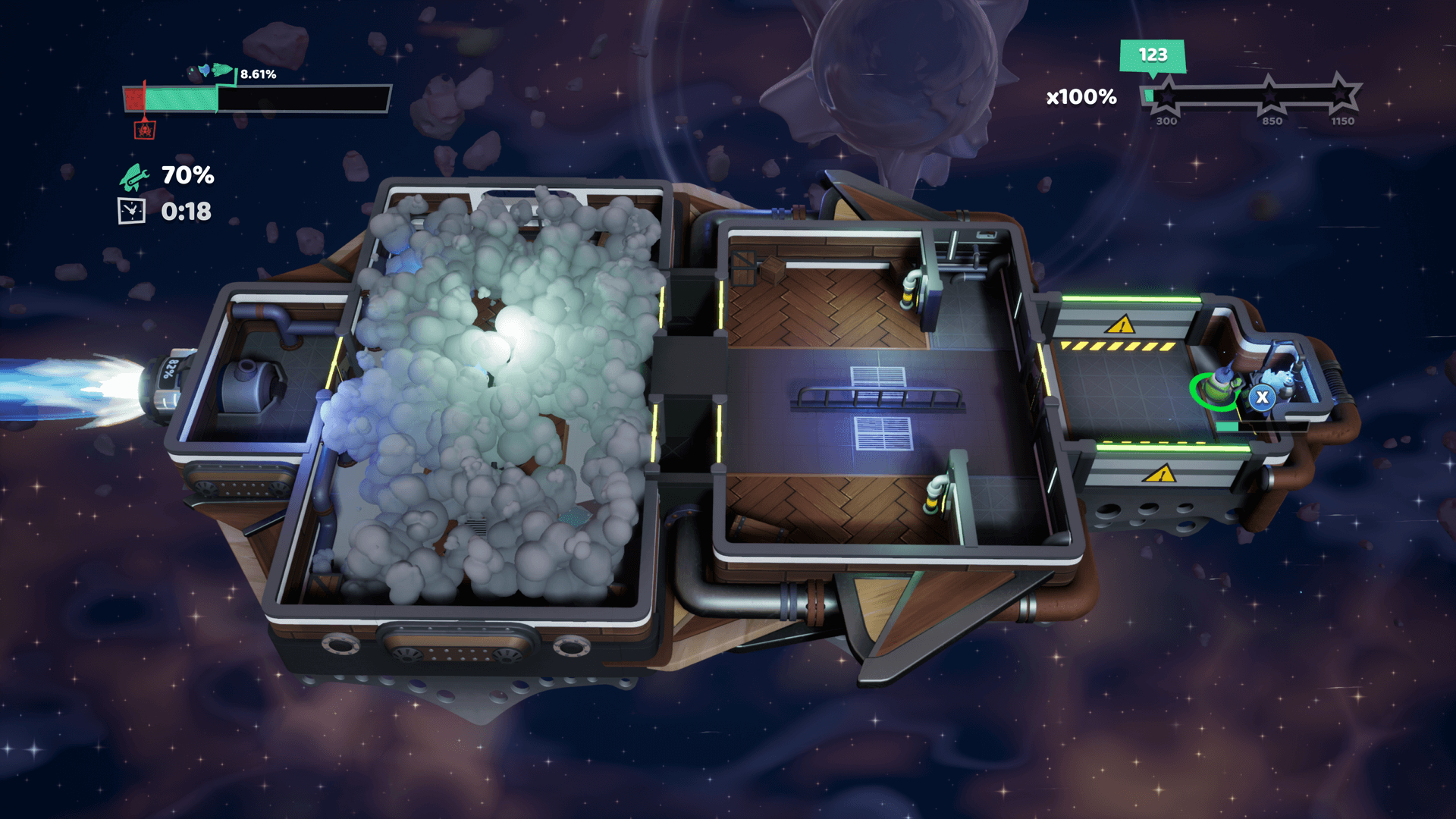 Some hazards are little too obstructive.
For game about a giant space octopus that likes to destroy spaceships, the difficulty is completely at odds with the tone of everything else. The character models are cute, the overworld is full of stuff to bounce off like a pinball, but when all of this is compared with the fact that each mission is just challenging enough to feel almost impossible as you head into the later game there is some dissonance; without the light-hearted tone, however, I honestly don't think Fueled Up would be as fun as it is.
As with many games in the genre, each level sees you completing a series of varied tasks to reach an end goal: in this case, making sure the ship isn't destroyed before you get back home.
None of the tasks are little more than take item A to point A and repeat until the problem is solved, but the number, and diversity, of tasks – as well as the incredible variety of level design and environmental challenges – means that no two levels feel alike.
Local multiplayer will always be sovereign, but online is an option.
Jenny and I found ourselves splitting up the burdens on some levels – she would get the fuel while I dealt with generator fires, for example – while on others we'd move between duties as required, all the while repairing hull breaches to ensure the ship didn't explode.
Communication is obviously key in games like this, and it does benefit from couch co-op play.
Online multiplayer is supported, but I think I'd rather the two players, one controller option purely because games like this hit differently when played in person.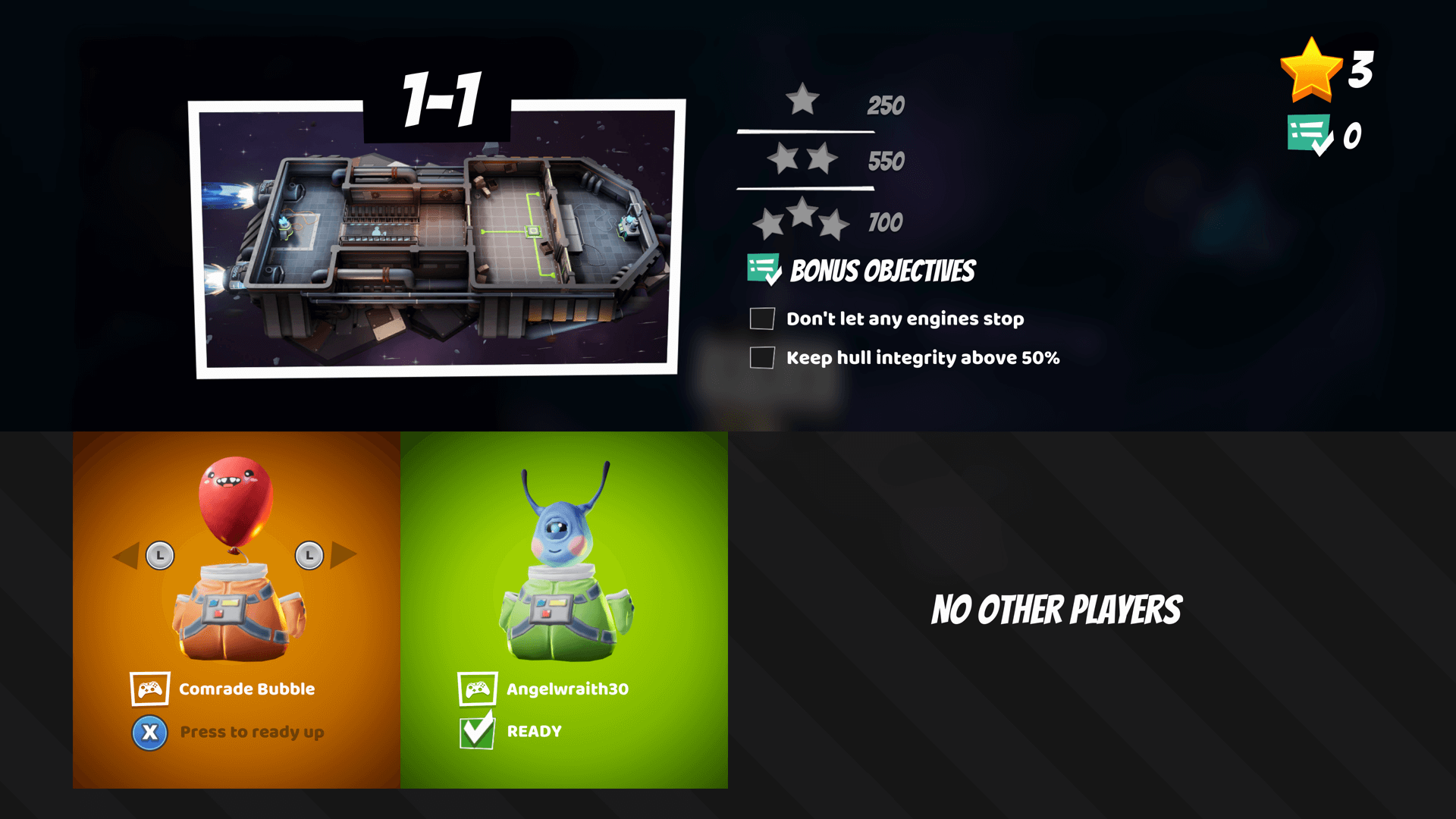 You always know what you're going into, at least.
It's also far easier to apologise for a raised voice or poorly chosen word in person than it is over the internet when the other players may not be able to see you.
By this point of the review, you could be forgiven for thinking that there isn't all that much innovative here and, truthfully, there isn't. But it is, for the most part, polished and a nice refinement of the formula.
Ideal for people with neurodivergences
Being able to focus on discrete, unchanging tasks allows people with our neurodivergences to play the game without getting overwhelmed and the most annoying environmental effects – smoke and wormholes, in our opinion – were minor frustrations to be coped with at best, not game-ending difficulty spikes.
In fact, the only real problem we encountered was that some things are just too small to make out easily among the mass of visual information. Batteries and fuel crystals are illuminated but their receptacles are not, making figuring out where they go frustrating on occasion.
This may have been a consequence of playing on a television on the other side of the room, and the larger your display, the better you will likely find this aspect of the game.
Another thing to note is that on one level, a narrow metal bridge blends in a little too well with the purple goo it hangs above, making it difficult to tell at a glance if you're about to walk off of it.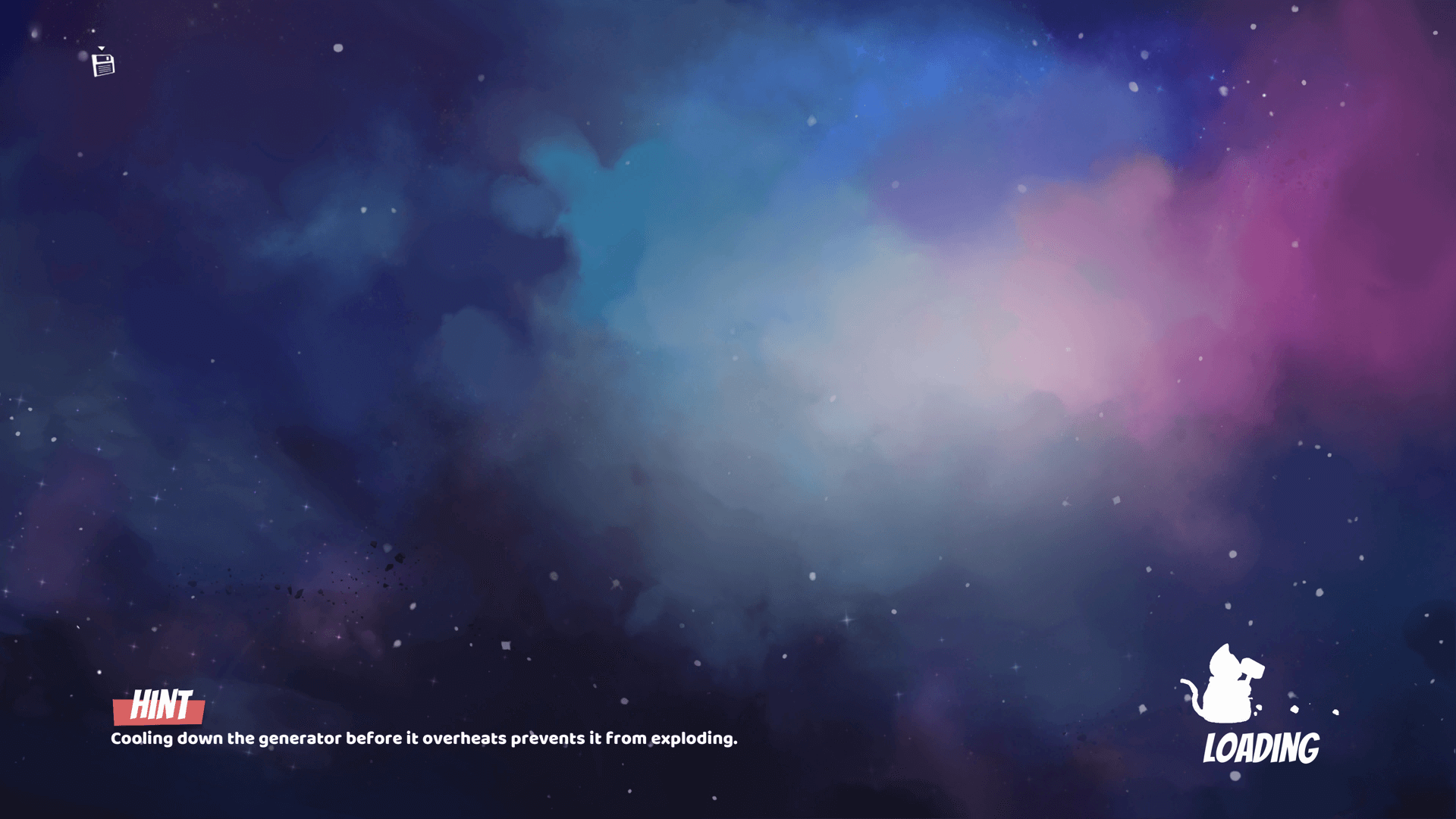 With hints like that, how can you fail?
It is worth noting that your score is reduced whenever the ship's engines are offline. This is a conscious decision that does feel a little disheartening as you will likely be feeling overwhelmed by the point that happens, but the game does make you aware of it.
These are little problems and can be overcome, and there's plenty of time to figure out ways to deal with them. A casual playthrough will likely take you no longer than ten hours at the outside, depending on experience and party size.
This is a very generous estimate, and most players will be able to complete the game a lot earlier. Replayability comes from each level having a score system – which is not used as a level gate, fortunately – and secondary objectives.
With two players, you will likely struggle to both reach the three-star threshold and complete the secondary objectives, but you can still have fun with the game.
Hours of cheap co-operative video game fun is yours for the taking.
Fueled Up sells for around £16 and, honestly, that's a fair price. I would be reticent to pay more for it, but you'll get hours of chaotic fun for a relatively low entry price, marred only by the odd quirk.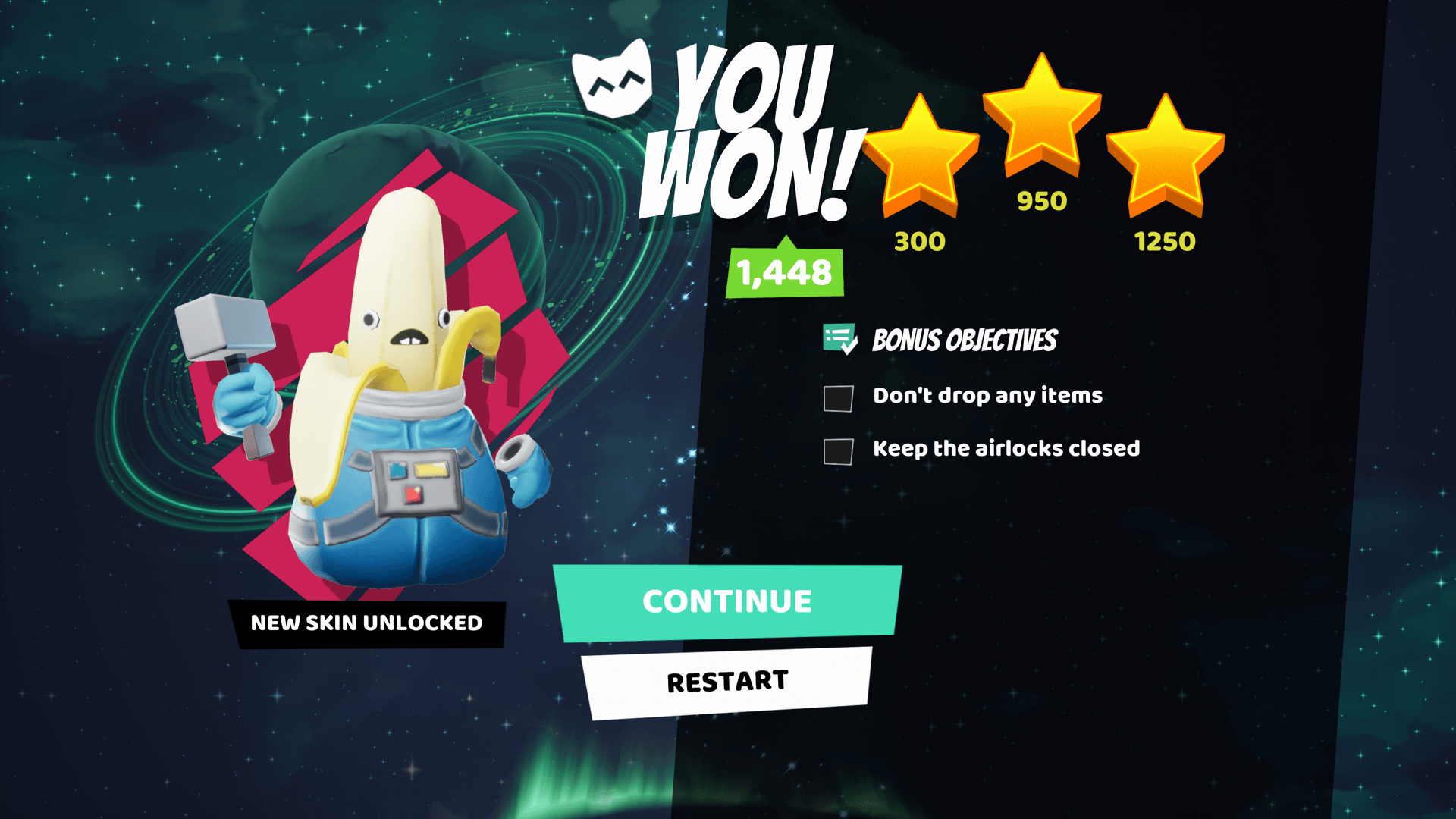 Cosmetics, score thresholds, bonus objectives. It seems like a lot, and it can be with only two players.
Ultimately, as with many games in this genre, you will either really like Fueled Up or hate it. We recommend this game and believe that many people out there will enjoy the cosy, chaotic sci-fi shenanigans that play out over the course of its missions
Sometimes you've just got to take in the view, you know?
With everything above in mind, we wholeheartedly give Fueled Up an 8/10. It's not perfect, but it's a lot of a fun, and it's a great way to spend an hour or two with friends. Just make sure they're still your friends after you get sucked out the airlock for the fifth time.
Fueled Up - 8/10
Check out the trailer below: