Help us Un-Single your Friends, and Win an Nvidia RTX 2080ti, Xbox 1 and PS4 with $200 worth of games with GamerDating.com!
Posted By: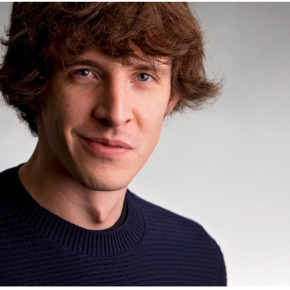 James - December 12, 2019
Help us find dates for your friends!

You're still in with a chance for 1 more month to win, one of GamerDating's launch prizes!

We're trying to un-single every gamer. And that includes your friends! To say thanks for your help in this, we're still giving everyone a chance to win one of our massive launch prizes for the next month only! We ran the competition on launch and it was so popular we had to extend it just a few more months to allow everyone to get a chance of winning. But for sure, entry's close January 15th 2019!

All you have to do, is tell your peeps on social media all about us with a chance to win -> That's it!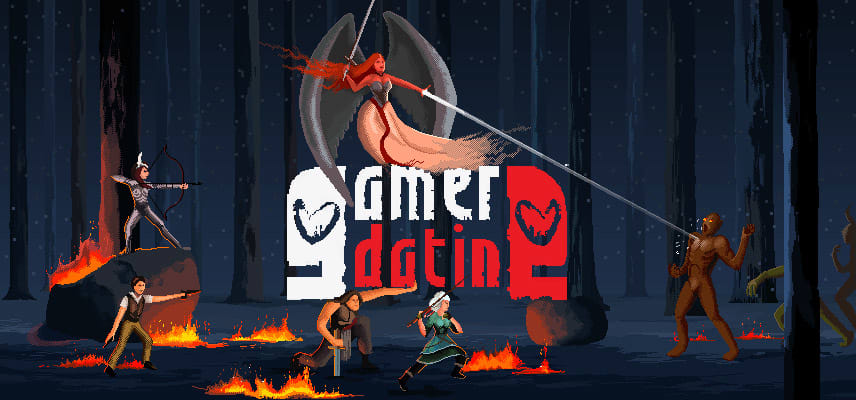 The dating site for gamers is recruiting you!
Win gaming prizes, consoles, subscriptions and more in our HUGE LAUNCH GAMING GIVEAWAY!
With our launch we are happy to announce we are giving away games, hardware and subscription prizes worth a total of $50,000
Just for helping your friends find love too!
We're running a leaderboard (of course) in the spirit of gaming, with a good old-fashioned contest.

You can easily start Un-Singling your friends and ENTER THE CONTEST HERE
Everyone has the chance to win or earn something!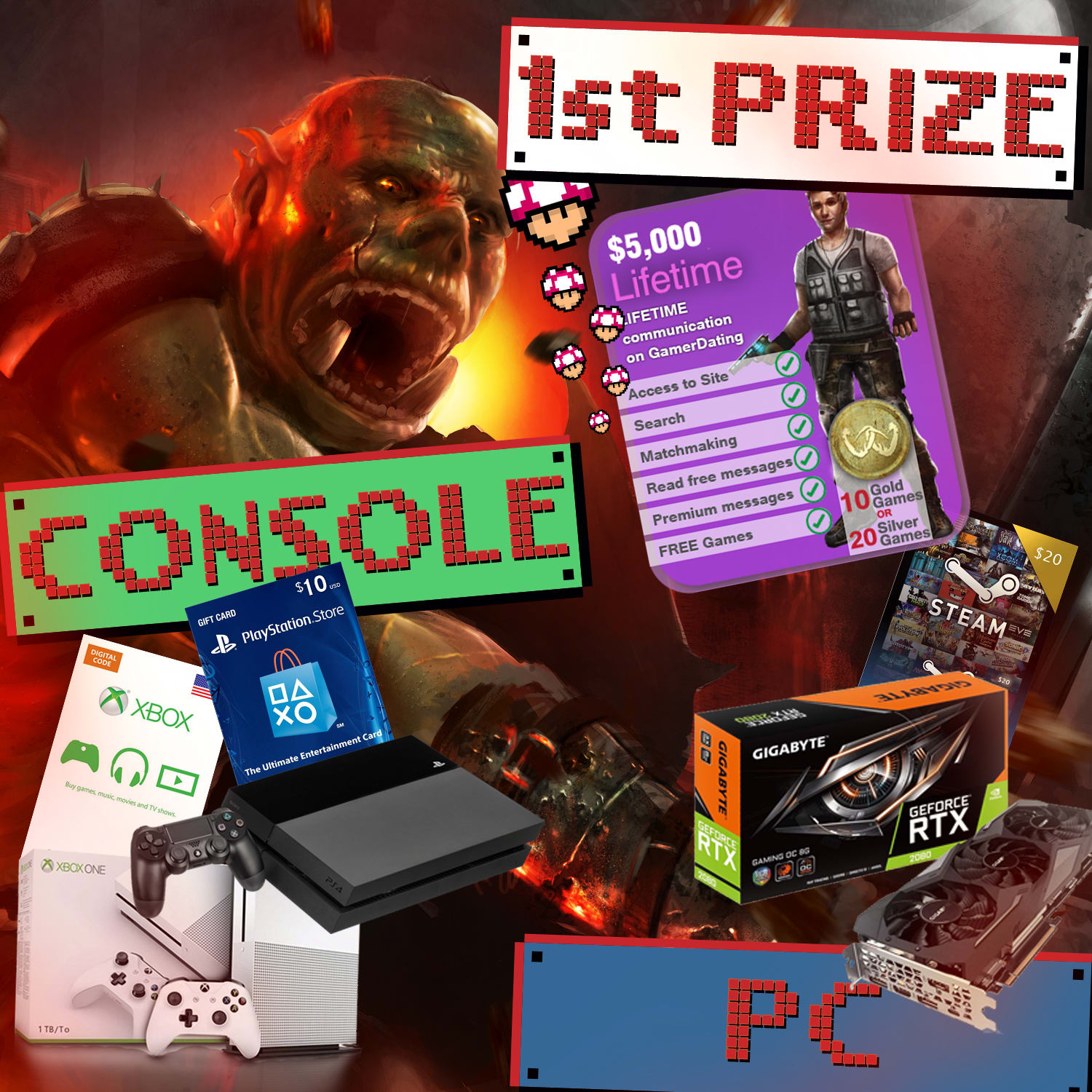 First prize is still quite tasty (And we're assuming you won't want a Google Stadia any time soon - Ed). Win an RTX 2080 Ti, Xbox 1S and PS4 Pro + $200 worth of games and LIFETIME access!
Collect bonus entries by completing tasks to unlock our prizes, climb the leaderboard and win the grand prize.
You can read further details over on the contest page, but the contest is simple and you can choose how involved you wish to be. Simply enter on the page or do more and find the secret code, like us on Facebook, Twitter and Instagram and interact to get more entries.
The top 3 on the leaderboards will earn the biggest prizes, such as an RTX 2080, or, if the winner prefers, a PS4 Pro or Xbox 1S.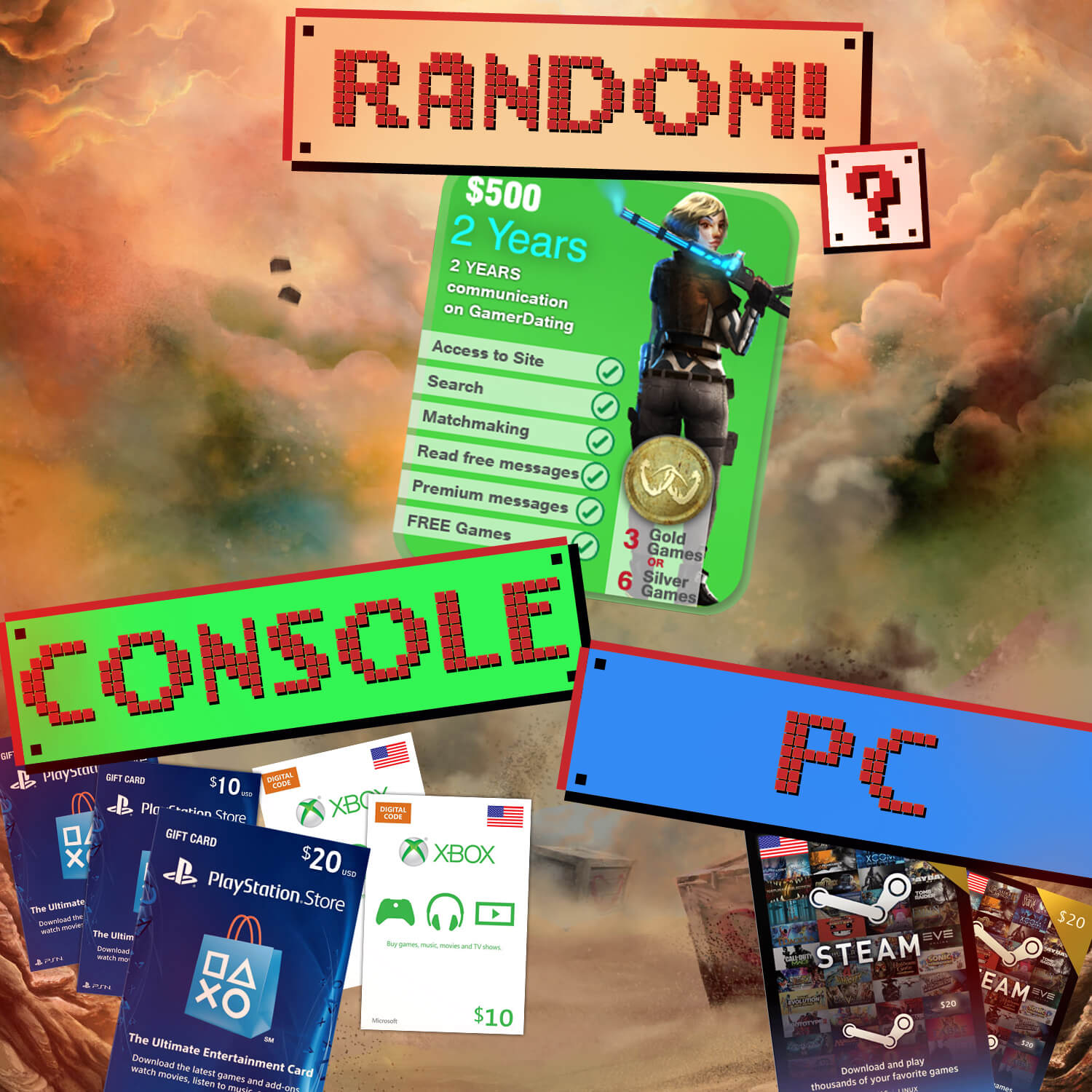 Five Random Lucky Winners will get 2 years access

We are also offering FIVE lucky entries in our random raffle win. These "Random Pub" (lol) winners will get $100 worth of games AND a 2-year subscription to GamerDating.com
If that's not enough, we just want to keep giving more away...

The FIRST 10 to collect OVER 9000! entries will win $100 worth of games PLUS a 1-year subscription to GamerDating.com
THINGS WE MADE!
With constant development, a dedication to creating a community of gamers and a place to seek out your special Player 2, GamerDating.com still has things to come.
Advanced Matchmaking
Our new matchmaking system adds an extra level of sophistication.
Currently we're optimizing how and when advanced matchmaking emails will get sent out to you via the advanced matchmaking system. Most of the feedback we've gathered has been that twice a week is enough – anymore and it's a little hectic up in your inboxes!
With advanced matchmaking we'll be able to find you better and current matches.
When you login and view your dashboard you'll be able to see your usual top matches.
If you miss a day, you'll still generate close matches and as each day ticks by you'll see the number of matches will expand (like MMR or region extension when searching for games), giving you the chance to find that special someone. This is currently set to generate a set number of matches per day based on user feedback (too many, too overwhleming, it doesn't feel special, not enough, and people miss out on the potential for serendipity).
To help you find the best matches possible, we are adding a queue to your matchmaking. The queue will keep those current members waiting to be 1-upped or bombed, and show you how many are left in the queue for the day.

This queue refreshes daily.
When you run out of matches, you can refresh your match queue and our system will offer you new ones. Or of course, you can click "Find a Date" and refine your search for your special Player 2 at any time to browse ALL members on GamerDating.com.
Advanced Matchmaking Email Improvements
With all these matches flowing onto your dashboard, if you miss a day or are away from a reliable connection, don't worry. Not only will your matches be stored in your queue, but you'll be emailed a notification of those potential partners.
This update has been live for a few months now, so as to:
inform you reliably who is interested in you
not to spam you.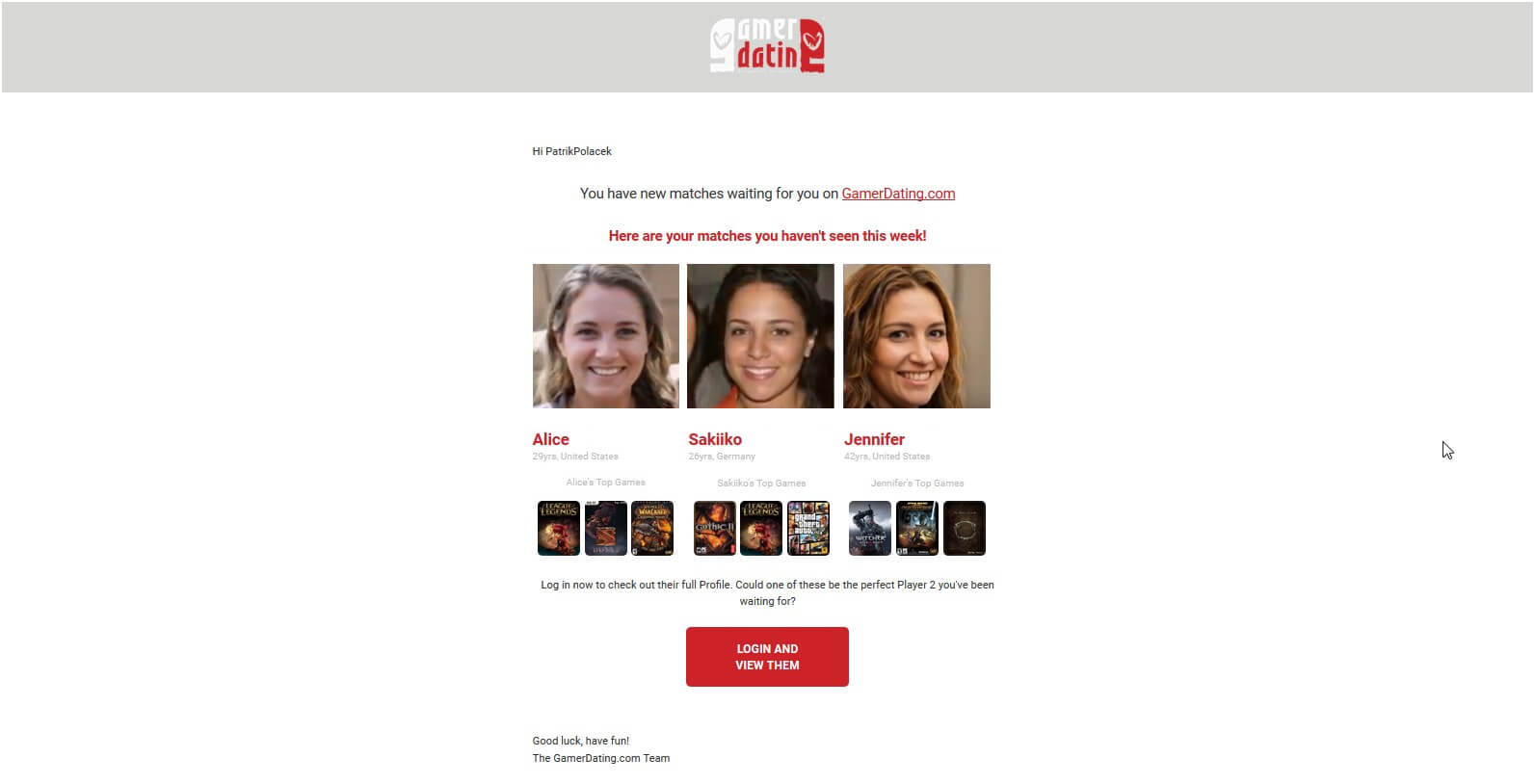 These emails can, of course, be reduced in frequency, turned off entirely or sent with each group of matches found. If you are not a fan of email communication, you can change your settings in your Account Settings under "Mailing" and unsubscribe with ease.
Your matches next week are now sent twice weekly.
Matches go straight into your inbox you've shared with us.
Future Updates
While we can reveal the above features coming soon, we can't yet reveal the awesome features we have in the pipeline!
You know the drill – if a developer releases information about a feature and it vanishes or is delayed, they'll have hell to pay.
We are adding certain third-party integrations for sign up, as we imagine most gamers will already be users. We did use Facebook for a while, but due to privacy concerns we stepped away, so worry not. It won't be Facebook. ;)
WE HOPE YOU AND YOUR FRIENDS FIND LOVE!
If you've read all this and have not yet taken the chance to win a RTX 2080Ti or the latest consoles, get over to the contest page!

Thank you for being a part of GamerDating and helping us make the gaming community a better place.
Here's the contest link again so enter the contest here!
Good Luck
Have Fun

James, Alex, Melissa, Patrik and Silja