Prison Architect Surprise Us With Update 11
Posted By:
GamerDating - December 20, 2016
In the early morning of a frosty 20th December, Introversion, developers of Prison Architect released a surprise update for Prison Architect.
Prison Architect is a private prison construction and management simulation, building the prison, catering to the needs of the prisoners, and managing funds and intake while you rehabilitate those prisoners. It has been received widely as a great success, regardless of the slightly controversial subject matter.
With their latest update, PA now has Staff needs, just like prisoners.
No longer can you treat your hard working prison officers as robot gaolers. They're going to need their own toilet and canteen and your staff room is about to get a whole lot busier....
Now staff need break times, food, comfort and rest. If you do not tend to these needs, slowly they will start to get quote "pissed of" and start to purposeful perform badly.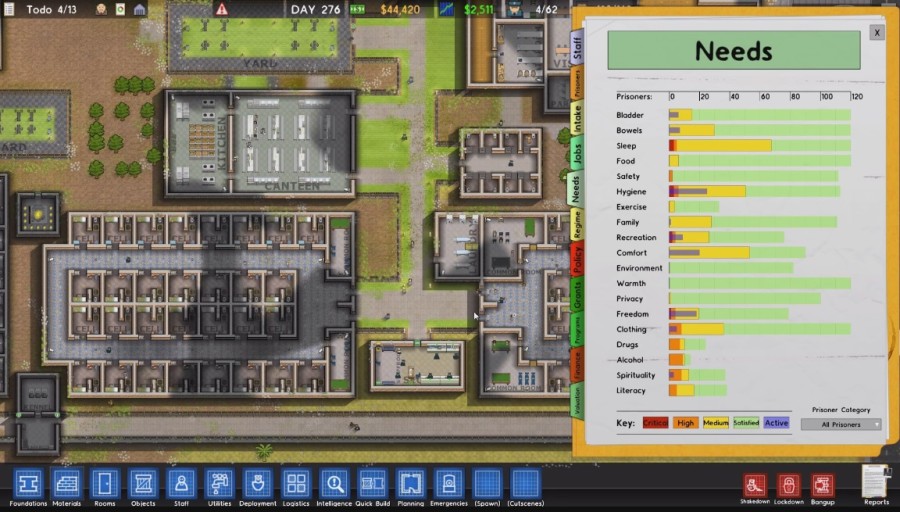 One large subtle change to the entire game of Prison Architect.
You can check out the full update log on the forums.
You can opt in to Version 11 on Steam:
Right Click on Prison Architect in your steam library
Select Properties
Select betas
From the dropdown select 'beta'.
(If it isn't visible, try restarting steam)
Close and launch Prison Architect
We hope we see more and more of the these surprise updates. Let us know how you get on with the update 11.