My Top 5 Co-op Games to Play with Your Partner
Posted By:
Emily Toye - December 02, 2016
"Alone we can do so little; together we can do so much." – Helen Keller
Whether you're a console or PC gamer, playing a videogame with other people heightens enjoyment. You can share opinions about the combat system, encourage each other in defeating the final boss, and scream at the fact that their character is much stronger than yours and that's why you lost that last round of Mortal Kombat.
This article suggests some games that are great for playing with your Player 2. If there's a game that isn't on the list that you think is great for co-op, share it with your partner and jump in together. Maybe there's a game on here that your companion loves – why not ask to join them? Through these games, you can create a stronger emotional bond and find out more about your companion's preferred style of games.
This list is a mix of console and PC games, so whether you live a street or a country away from each other there should be something here you can play together.
Warframe
Warframe is a free-to-play, third-person shooter that sees you – a Tenno – control warframes – mighty armour suits that have different abilities and play styles. Your mission is to rid the galaxy of the Grineer, an army of cloned beings, and other foes so the galaxy can have peace. In short, you are a space ninja. What's better than playing a space ninja?
This game relies heavily on working with other Tenno, either in normal mission types, fighting bosses, or playing lunaro, a form of sport. Itb also thrives on teamwork. If a warframe goes down, you can get them back up. You can heal and shield each other in order to reach the end of the mission in one piece. The sense of working towards a goal and running through difficult missions together is very enjoyable and, with varying levels of difficulty, it can be either relaxing or heart-pounding. The best part is that it's free to play. You can pick it up via Steam, PS4 or Xbox One.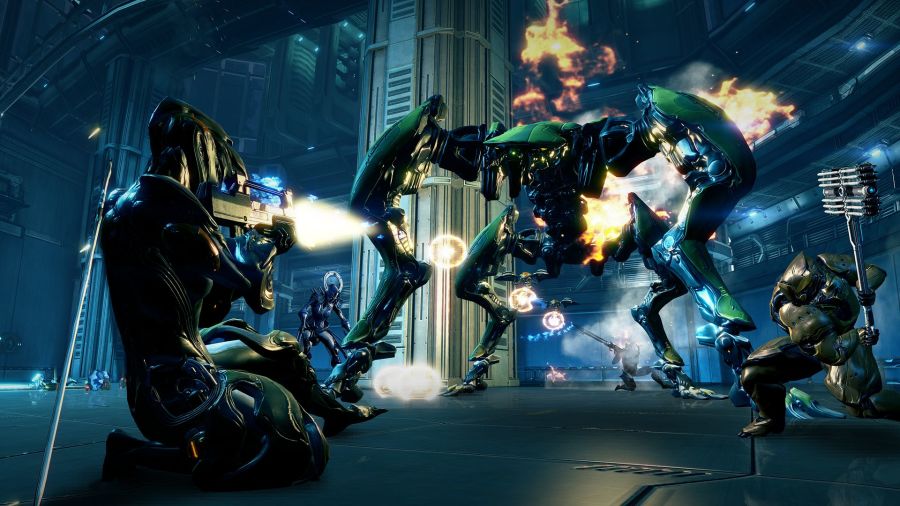 Audiosurf
And now for something completely different. This Steam title is a music-based game where you ride on the path of a music track. Pick a track you like and race along the road in your spacecraft with the path moving to your music whilst the visuals become increasingly intense as the music picks up. There are many spaceships to use in this game but, for cooperative play, the double vision option is what you need. You ride side-by-side, working together to match coloured blocks along the road whilst making sure to not overfill your bar.
This game is a casual but enjoyable experience. It allows you to not only share your love of games but also your music. The game can be competitive, which I think makes it more fun, and riding in a spaceship across a crazy colour-filled landscape with your partner creates a memorable atmosphere.
The drawback is that to play co-op you need to be using the same system, with one on the mouse and one on the WASD keys, which is difficult for long-distance players. However, you can still choose the same song, play single player on separate systems and see who gets highest on the scoreboard.
There is free-to-play demo of Audiosurf 1 and 2. Alternatively you can get Audiosurf with GamerDating Subscription of 2 months. If music and games are definitely your thing, grab your Player 2 and go riding along your favourite song.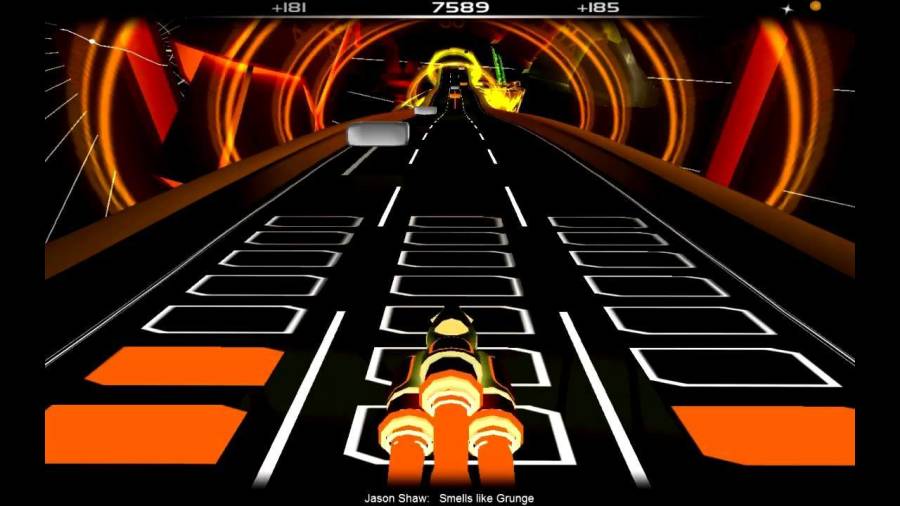 Minecraft/modded Minecraft
The blocky world of Minecraft is a huge title and continues to thrive with different updates. The possibilities are endless in this game. You can make a tiny wooden house, create a huge replica of the London Eye or blow up a tonne of mods with way too much TNT. You can do all this alone in single-player mode, but have you ever tried multiplayer?
I've found Minecraft to be a relaxing game that is good when I'm not in the mood for shooting the enemy or being on edge. With a partner, the game is even more fun. You can create more structures together in creative mode or hide out in the dark together in survival mode. But what happens if the game gets boring and seeing a creeper doesn't make you both jump? Why not try out a mod?
Mods are created by the Minecraft community as add-ons to the original game. With your Player 2, you can choose a mod that will enhance your experience ofthe game from a vast selection. If you and your partner feel like making a house with beautiful furniture, fighting with insanely powerful and creative weapons, or blowing up the world with a range of different bombs, there's a mod for it. They can be accessed by downloading the mod onto a copy of Minecraft or downloading a launcher for the mod, such as the ATLauncher.
Multiplayer is possible through a LAN server, locally, or Minecraft Realms, which allows anyone to join the server. Unfortunately, accessing Realms requires a subscription, which is around £5 per month on top of the price for the full game, which is around £15. Furthermore, Realms is only available for PC, so you can create a multiplayer server by inviting your Xbox player into your Xbox world but the server is closed when the host leaves. It is possible to create a server on PC without Realms, which can be found with a quick search query.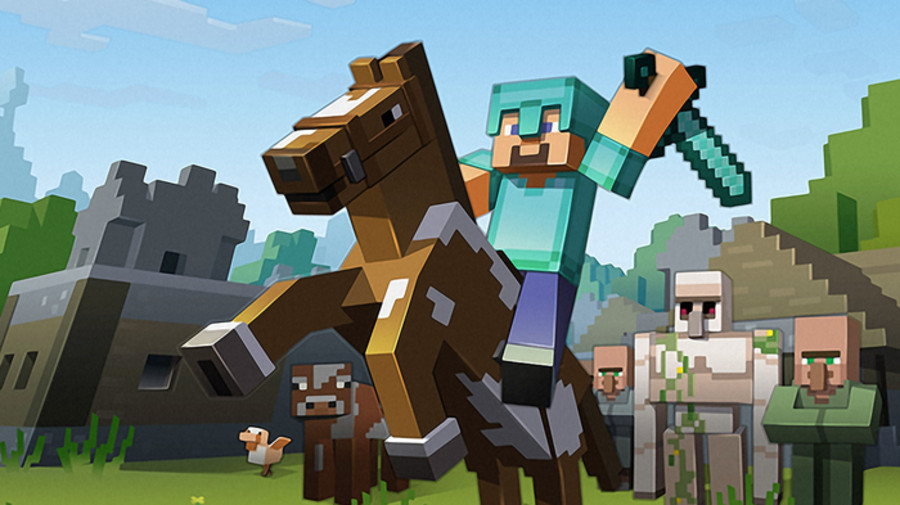 The Civilization series/Civilization V
I won't be unsurprised if 'Baba Yetu' is now playing in your head. There are many different versions of the Civilization series, the one I'm most familiar with being Civilization V. The games in this series involve you taking control of famous leaders to lead your nation to victory with a map-like view of proceedings. You can race against other countries to be the first to send somebody into space, become world leader or defeat your neighbouring countries until you are the only remaining civilization.
Civilization V offers two multiplayer options. You can work together with your Player 2 as different countries, sharing resources and building up to take over the world as a team, or compete against each other to see who can become the superior country. Both are immensely enjoyable. Working as a team and defending each other against the rest of the world creates a more relaxing experience and you can form a better bond with each other as you work towards your goal. Competing with each other can be a bit more frustrating in my experience, but it's all in good spirit and you can still support each other even if you're not on the same team.
The game guarantees hours of play, but if you and your partner find the game becoming tedious you can always take a break. You can pick up most of the series, expansion packs and spinoffs on Steam for between £10 and £50 and Civilization Revolution for consoles. Alternatively you can pick up Civilization V and VI here at GamerDating with selected Subscription. Be quick though, we have limited supplies!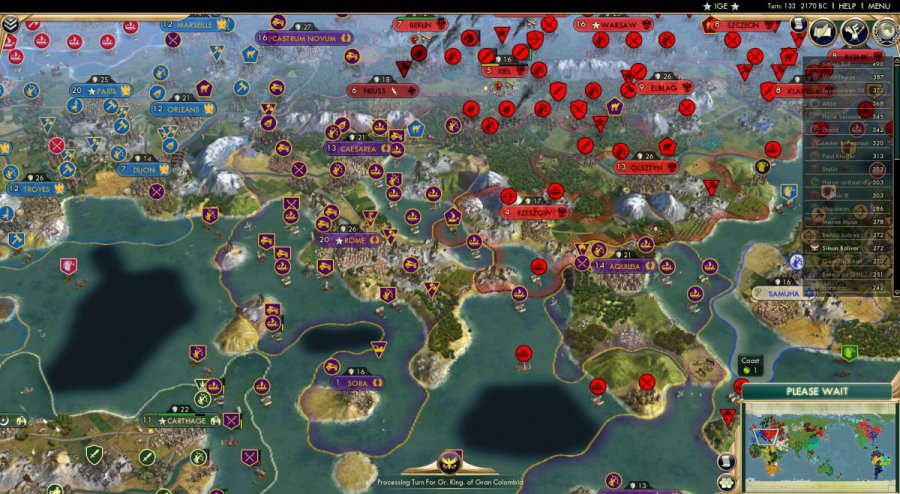 Payday 2
Ever wanted to gather a group of friends and carry out a bank heist whilst fighting off the police squads with an array of weapons? Payday 2 lets you do just that and you won't be sent to prison for it (in real life). The game involves you and your group of heisters carrying out a multitude of missions, from robbing a bank to defending your money in your safe house.
This is my most recent purchase. I went in sceptically but, after my first mission, I realised it is a perfect game to choose when my partner and I want to play something together. Rushing into a building to carry out a mission with your significant other is thrilling and builds the bond between you.
Another way to enjoy this game is going in with your partner and two other friends as a complete heist team. Of course, you can go in as just the two of you with other players online or with AI allies, but having communication between every team member can mean the difference between a successful heist or a trip to jail.
With Payday 2, you and your partner can carry out dangerous missions and daring tasks from the safety of your systems, get a brilliant time out of it and not be in trouble with the law. It can be picked up via Steam at around £15 or via the Payday 2 website. It's also available on console, including Xbox 360 and PS3.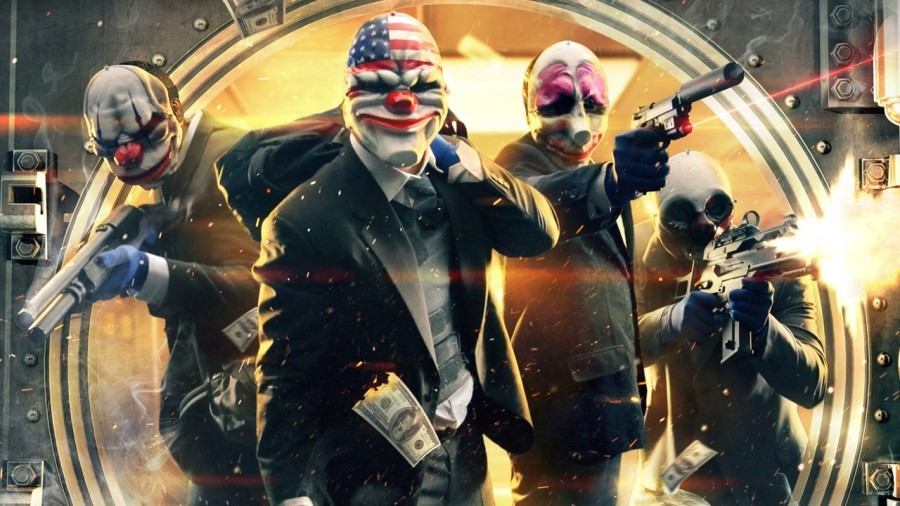 Do you agree with our top 5?
Share your top 5 on Twitter with a chance to win GamerDating Subscription, What is your top 5 to play with your partner?
Emily Toye is one of resident writers and has shared her top 5 coop games to play with your partner. You can read her previous article on how her first date was a Video Game.